Sinful Empire by Meghan March is the final part of an amazing trilogy. You need to read the previous books first! Sinful Empire picks up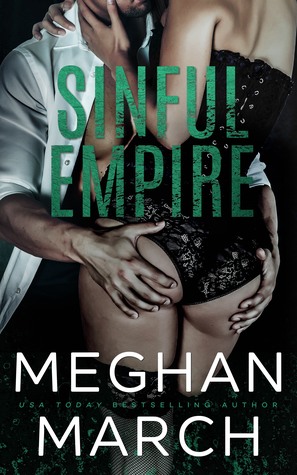 right where the last book ended, with someone going after Keira.
When Keira gets hurt Mount will stop at nothing to avenge her. Everyone will pay for making her bleed! What Mount didn't expect was Keira's fierce devotion to him. She wants the people to pay for hurting him, too and she makes her demands as she takes her place right by his side. She's no longer the same woman who tried to deny her feelings for him. Her feelings are out there for him and everyone else to see. Together, Mount and Keira are a dynamic power couple who you don't want to cross!
Mount is doing what he can to keep their world safe, but when someone goes behind his back and tries to take Keira from him, everything goes to hell. This author has a few more twists to throw at Mount and Keira before they get their happy ending and no one will see them coming, especially Mount.
Everything is tied up nicely in this book. We find out how Mount got his name and how he became king. Even though he claims he's a bad man, he's not. There are reasons why he does things and he's definitely a man you want on your side.
Sinful Empire is filled with action on every page. You will be glued to this story as you try to figure out how it all ends. Edgy, suspenseful, and extremely sexy, this series is a clear winner. Highly recommended.

Book Info:

Publication: December 19th 2017 | Red Dress Press | Mount Trilogy #3
The Mount Trilogy concludes with Sinful Empire!
What's mine, I keep, and that includes Keira Kilgore.
It's no longer enough to have her in my debt. No longer enough to own her body.
I want something more.
She can try to resist, but I'll never give her up.
Nothing will keep us apart.
Not her. Not my enemies. No one.
Her debt will only be paid one way—with her heart.
Sinful Empire is the third and final book in the Mount Trilogy.