In A Virgin for a Vow by Melanie Milburne, Abby Hart has been living a lie ever since she started her job as a relationship columnist,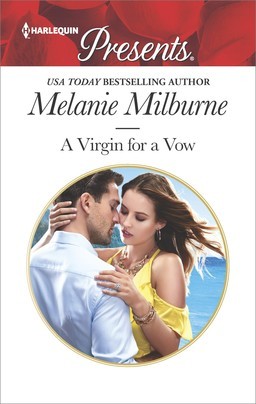 and now she needs a man to pretend to be her fiancé. Her best friend's brother is the perfect choice, if she can convince him to take part in keeping the lie up. Yet, the more time they spend together, the harder Abby finds it to keep her heart out of the week-long affair they agreed on. Will Abby be able to convince Luke that a relationship between them is worth fighting for, or will his past keep him from ever wanting a relationship again?
"I might be standing in for someone who doesn't actually exist but that's as far as your little fantasy goes. Understood?"
Abby wondered what he meant by such a comment. "I hope you're not thinking I'd want you to actually marry me because that's just utterly ridiculous."
"Good to know," he said. "See you tomorrow, Cinderella."
Ms. Milburne is normally an author whose books I can get lost in right from the moment I begin reading, but this story just didn't work for me with the heroine believing she could lie her way to the top and then expecting someone else to help her just so she could keep her job. Why did she feel the need to lie? Would the lie be exposed? As for the way this story started, it had me shaking my head at the heroine and the dilemma she finds herself in, because she has no one to blame but herself. Why doesn't she just tell the truth and face the consequences? Why continue the lie when it could bring trouble for her? However, it was from the moment the hero and heroine came face-to-face for the first time that had me intrigued, because the hero is the heroine's best friend's brother and asking him to help her and getting him to say yes isn't an easy task. Will Abby and Luke be able to pull off their fake relationship to make everyone think the hero is the heroine's Mr. Right that she talks so highly about?
As for the main characters, even though I absolutely adored everything about the hero – his back story that has him weighed down with guilt because of what happened to his ex, and everything he goes through in this story because of the fact that the heroine is his sister's best friend — I couldn't give this story more stars than I have because the heroine frustrated me from the moment she entered the story and didn't win me over until Luke made things right between them towards the end. In fact, all she did was make me feel sorry for her since it seemed she tried too hard to be liked with the way she kept things to herself when it came to her past. Also, she had this whole I've-had-a-horrible-upbringing-I-should-be-due-for-things-to-go-my-way routine going on, which is proven by her lie and that she needs a man to help her keep up said lie that I didn't enjoy. Too bad Ms. Milburne didn't take this story the way I was hoping for the heroine. What good is a lie, if the person telling it doesn't get caught out?
"That ring you're wearing is a cliché." He turned the bulky setting around on her finger. "And it's not even a real diamond."
"How do you know it's not real?
"It's a good fake, I'll give you that."
Abby gave a self-deprecating grimace. "I would've bought a real one if I'd had the money."
His mouth tilted in a smile. "You're a funny little thing, aren't you?"
"Yes, well, that's me – a living, breathing joke."
Overall, Ms. Milburne has delivered a read that gave me mixed feelings because the hero was a brilliant character, but the heroine I couldn't warm up to until right near the end. However, in saying that, I did enjoy the strong chemistry this couple had between them; and the ending wrapped this story up perfectly, as Luke goes to great lengths to prove to the heroine how much he loves her and that he wants her in his life forever. I would recommend A Virgin for a Vow by Melanie Milburne, if you enjoy the sister's best friend trope, the fake relationship trope, or books by authors Julia James, Abby Green, Cathy Williams and Lynne Graham.

Book Info: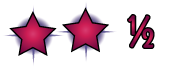 Publication: December 18th, 2017 | Harlequin Presents |
Her innocence–exposed!
As London's top relationship columnist, Abby Hart can't tell anyone her biggest secret: not only is her perfect fiance entirely fictional, she is also utterly untouched. Invited to attend a prestigious charity ball with her "husband-to-be," she throws herself upon the mercy of brooding millionaire Luke Shelverton.
After his own engagement ended tragically, Luke is reluctant to take credit for Abby's diamond ring. To protect her reputation, he agrees to a convenient arrangement. Except Abby's effervescence kindles a fire he's tempted to indulge… And uncovering her innocence compels Luke to initiate his temporary fiancee into all the sinful delights of the bridal bed!