In Singapore Fling by Alexia Adams, Lalita Evans has always believed that she is not the biological daughter of John and Julia Evans. She has based this on two things, one that everyone even her sister's names start with the letter J and she is the only one who's name is very obviously different, the other reason is that her skin and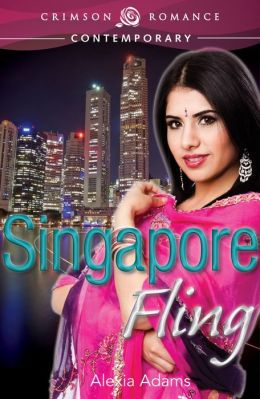 hair color don't resemble either of her parents at all. For those reasons alone she has done everything to be the perfect daughter and has focused on being the best possible boss in Singapore and hopefully future CEO. Her focus has been only on her job for the past five years.
Now Lalita will have to face the man she met at her sister's wedding five years before. She left him then because he was an employee and thought he maybe using her, but now his father has appointed him Director of Marketing and she will have to work very close with him for the next couple of weeks.
Jeremy Lakewood has not forgotten Lalita and their one time in the back of his car before she left him running and never heard from her again. He has done his best to rise in the business and done it independently from her family's company, but now that her father has hired him and appointed him Director of Marketing he couldn't be happier of the challenge that will come his way as he has to spend three weeks working very close to her. The only downside is that her father somehow found out about their affair and has threatened him to blackball him and ruin his career if he so much as touches her.
But no matter how much he may want to keep his distance, the chemistry and attraction that lead them to their one-time affair has not diminished at all and being so close together the entire time will not make things any easier. Lalita is also having problems keeping her distance from Jeremy and she thinks about seducing him without knowing what the consequences will be for Jeremy if he acts on his feelings.
The adventure Lalita and Jeremy embark will not only be full of desire and lust, but also Lalita's insecurities lead her to dig into company files as she tries to find the truth about her heritage. Until she finds out where she comes from, she doesn't want to have any serious relationships and she knows that if she gives into her desire for Jeremy she will not be able to stop it there. So she will start digging until she finds her birth mother and the truth behind her birth, which she believes all starts in India where her father's company began.
For a fun and sexy romance with a reunion and fling that turns into real romance, don't miss Singapore Fling by Alexia Adams.
Book Info

Publisher: Crimson Romance (June 3, 2013)
Lalita Evans has always instinctively sensed that she is not the biological child of John and Julia Evans. So she has done everything she can to be the perfect daughter, the perfect future CEO of the family business. Her focus only slipped once in the past five years, when she met Jeremy Lakewood. Now her father has appointed Jeremy as Director of Marketing, and the one man who can melt her mind with a single kiss is to accompany her on a tour of the Asian offices. But before she can listen to her heart, Lalita needs to discover her true identity and learn to put personal desires ahead of corporate profits.
Jeremy Lakewood is not afraid of a challenge. Rising from an impoverished childhood to the upper echelons of the corporate world has allowed him to live up to his vow to support his widowed mother and disabled sister. The one crater in his road to success is Lalita Evans, the one that got away and the only woman who has ever turned his blood to molten lava. She's not only the woman he can't forget, but also his boss's daughter. Sent to Asia with her on business, her father's warning echoes in his ears – seduce Lalita and his career is over. Will he risk his livelihood and all the success he's achieved to win the woman who haunts his dreams?
Eight countries in three weeks, a quest to find a birth mother, and a mutual attraction as intense as it is inconvenient leaves both Lalita and Jeremy questioning what they really want in life – love or their careers?
Sensuality Level: Behind Closed Doors