Sizzling Summer Nights by Debbi Rawlins : Big sky country Montana is the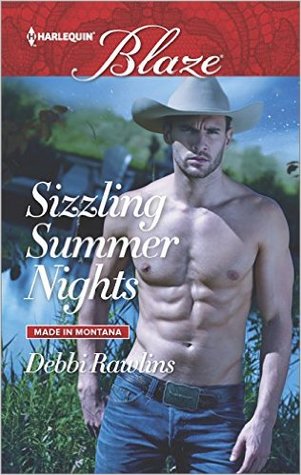 scenic setting for this sexy romance by Debbi Rawlins. The Sundance Ranch is the perfect place for Hannah Hastings to get some rest and relaxation – and maybe find a cowboy to dally with for her vacation. It'll keep her mind off of her father's ranch back in Texas, and her strained relationship with her dad. She finds just what she's looking for in one Seth Landers.
Seth is the prodigal son returned home. Some decisions he made when he was younger resulted in a weekend in jail, a disappointed family and the need to escape, which he did by going to college and then joining the military. He's back now though, and wants to take up his rightful place on his family's Whispering Pines Ranch. He feels the need to prove himself to his family and his community. Of course, that doesn't mean he's above catching the eye of an attractive female. Hannah looks like perfect fling material – here for a week, looking for a good time with no strings attached. But as the two of them start to connect on an emotional level, will Hannah be ready to say goodbye when the week is over?
With several stories by this author already set in Blackfoot Falls, there are an abundance of secondary characters in this story as cousins, friends, partners and co-workers to our main characters Seth and Hannah. They add some nice touches to the overall friendly feeling of this scenic country setting in Montana. As with any small town, gossip has a way of permeating everyone's lives, and that's certainly true for Seth who is still trying to live down the reputation that he unfairly earned for some errors in judgment as a teenager. It's refreshing for him to share things with Hannah, who has no expectations of him other than some sexy rolls in the hay (which Seth delivers!).
As an interesting secondary storyline, the ranches in the area are dealing with a government initiative to sell permits for grazing on government owned land. This is causing a lot of dissension between the local ranchers, many of whom have been illegally using the land for years. They want Seth to get involved, as he's the local man who has an education in agriculture and resource management. But Seth is already trying not to rock the boat, the last thing he wants is to be involved in more town conflict.
For Hannah, whose father in Texas has difficulty finding grazing land, the idea of him temporarily moving his herd to Montana is one she seriously contemplates. Having always been sidelined by her father her whole life, she wonders if this could be a bridge to repair their relationship. But not sharing this information with Seth right away leads to some rocky times for this couple, even as neither wants to admit that they've fallen for the other. Luckily they sort things out and we get a satisfying happy ending for the couple. With lots of sexy times, this small town cowboy romance is an entertaining and fun story that will please readers familiar with the town and delight new ones as well.

Book Info:

Publication: Feb 21, 2017 | Harlequin Blaze | Made in Montana
She's got this cowboy hot and bothered
A week in Montana at the Sundance Ranch is exactly the break Hannah Hastings needs. No dry, dusty Texas. No painful reminders that she's not the son her rancher father wanted. Plus there seems to be no shortage of dead-sexy cowboys in Blackfoot Falls…especially one tall, dark drink of delicious in a Stetson.
Hannah was just hoping for a little sexy fun. She never expected Seth Landers to rock her world–or just how much she'd love being in his. But disputes over government land are growing heated in the small Montana town. And Hannah is being drawn into a war she can't win. One where finally gaining her father's approval may mean losing the cowboy she can't help falling for…