Love 2.0 by Lee Kilraine: On the run from an ex-boyfriend gone stalker, Mira's on the search for a master hacker to help her disappear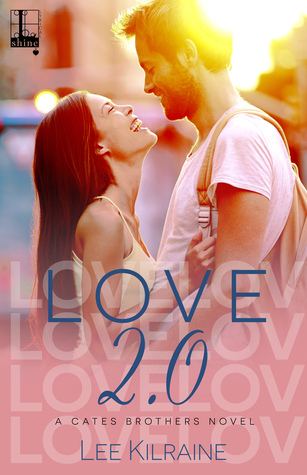 and she believes Kaz is just the guy she's looking for. Kaz has been warned off by the FBI against helping any more women disappear, but with Mira stuck in town due to a totaled car, she's not going to let him put her off for long.
Living in Kaz's house for the time being, for the first time in a year Mira feels safe, particularly as he starts teaching her self-defense maneuvers. And, for Kaz, he finds himself more and more drawn to all that is Mira and less and less does he want to help make her disappear, although for very different reasons this time.
He blazed a trail of kisses up her neck and along her jawline. "I know we agreed just friends, but God, Mira, you go to my head. Just give me a minute here."
"You can have all the time you need. Take five minutes. Or take me."
Kaz was a sweetheart and I just loved him. I'm always a fan of the nerdy, somewhat oblivious, tech guys. And Mira was certainly his perfect counterpart, talkative, energetic, and engaging. Although, there was this weird Spanish thing. I love that she's meant to be Hispanic, but there has to be more than her just saying Dios as an exclamation. That aspect of her identity just ended up feeling forced and half-assed.
Although there was definitely the whole stalker aspect, the story did feel properly centered on the romance. Not suspenseful at all, which I enjoyed. I like that we had that danger and fear element, but I always want my focus on the couple and their growing relationship. Other aspects, though, did a feel a little too light – such as with Kaz's career and the FBI involvement.
Overall, cute and fun characters I very much like dreading about and a sweet romance to fall into. For those who like the tech-y guy such as myself, I definitely recommend Love 2.0.

Book Info:

Publication: April 18, 2017 | Lyrical Shine | A Cates Brothers Book #3
Elvis has been spotted in the little town of Climax, North Carolina. Or at least, a shapely female Elvis impersonator—who's got Kaz Cates all shook up . . .
Kaz is having one of those days. Cyber criminals, federal agents . . . and now, Elvis. In reality, the King is Mirabel Diaz, earning money by delivering singing telegrams. But Mira's got another reason for being here: she knows Kaz Cates is secretly a master hacker with the skills to help people disappear, and that's exactly what she needs to do. Still, Kaz can't help wishing she'd stay awhile . . .
This isn't Mira's preferred career—her singing voice isn't even that great—but her ex-boyfriend, a powerful Russian gangster, hasn't left her a choice. No matter where she runs, he seems to find a way to pull strings and get her fired. If she doesn't get off the grid, his vengeful acts may only get worse. Kaz reluctantly agrees to help, and insists on teaching her self-defense. Though she's afraid to trust any man, she feels safe with Kaz . . . and welcomed by his family. But if they don't stop the danger that's chasing her, she may have to go on the road again instead of finding a haven in his arms . . .