Trusting Again by Peggy Bird is a traditional romance with a few sensual love scenes splashed throughout the story. The book moves along at a nice pace and the characters are believable and realistic. It is a well written story with a wonderful ending!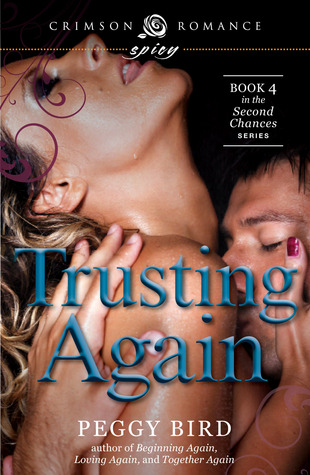 Washington State native Cynthia Blaine is a hard-working, high-end jewelry designer. Her pieces are selling well and she is finally able to support herself on her jewelry business alone. Her work is either commissioned directly or sold through various galleries in the Seattle and Portland areas. Due to a previous relationship that went horribly bad, Cynthia has huge trust issues. She is very wary about getting involved again.
Marius Hernandez is a very good-looking, successful coffee broker. When he walks into a room, the women, and sometimes the men, take notice. He travels on business from time to time but primarily stays in the Seattle area. Marius commissioned a piece of jewelry from Cynthia, which Cynthia automatically assumed was for his girlfriend or wife, but she was wrong, Marius is single.
After some miscommunication, they finally go out on a date. Sparks ignite and they begin to see each other.
Marius invites Cynthia to join him on his sailboat for a mini-vacation in the San Juans. She accepts and they have a wonderful time sailing and getting to know each other. Each day brings them closer together and they can't keep their hands off of each other. Upon their return, Cynthia stays with Marius until he leaves for a six week-long business trip to Central America. Cynthia has trouble believing Marius will return to her and begins fretting about it even before he leaves. Marius assures her that he will text and call regularly.
True to his word, Marius keeps in touch quite frequently and they become even closer during his absence. Happiness makes the heart grow fonder is true in their case. Cynthia and Marius are in love. Cynthia receives some pleasant news and eagerly awaits Marius' return. Unfortunately, things don't always go according to plan and their reunion is delayed. However, love conquers all.
This is the third book in her Second Chances series but can be read as a standalone.
Book Info
Publisher: Crimson Romance (June 3, 2013) – Spicy
Imagine Cynthia Blaine's surprise when she walks into the bar at the Heathman Hotel in Portland Oregon and sees the man she's been trying to forget for weeks after he commissioned an expensive piece of her jewelry for "a friend's birthday." There was no point fantasizing about him. He was taken.
But over a cup of coffee, he convinces her to give this relationship a try. Marius woos her on a sailing trip through the San Juan Islands and their romance seems on solid grounds. But during his six-week business trip to Central America, Cynthia gets a shock. And when she goes to Portland to pour out her heart to her best friend, she has another shock – Marius, in Portland, not where he said he would be and with another woman.
It'll take more than a good cup of coffee this time to get Cynthia and Marius to their happily-ever-after.
Sensuality Level: Hot