In Sleight of Hand (Outbreak Task Force #3) by Julie Rowe, Dr. Gunner Anderson doesn't work well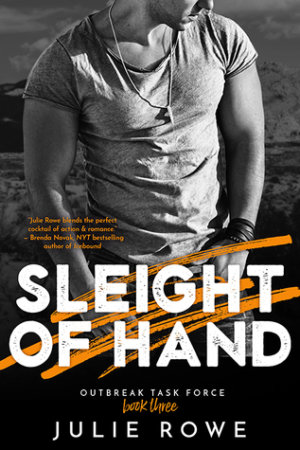 with others and it seems Dr. Joy Ashiro is the only one that he's not a total jerk to. But finding herself partnered with him to solve the deaths of several college students pushes the pair to the breaking point, especially when they can't come up with answers as to who is responsible? Yet, spending so much time together is starting to really make Gunner see what he wants in life – Joy. Will he be able to convince her to take a chance or will they walk away from their shot at happy ever after?
She rolled her eyes. "You really make it hard for a person to like you."
"I don't want anyone to like me," he said almost cheerfully, taking his muffin back to his desk and sitting down. "I just want to do my job and go home."
What a load of bulls***. If she said it out loud he'd stop listening. "Too bad you have to talk to actual human beings in order to do your job."
"Yes." He gave her a sad face. "It's a struggle, but I persevere, adapt, and overcome."
"I think the adage is improvise, adapt, and overcome, and you stole that from the Marines."=
What an absolutely enthralling, fast-paced, thrilling ride Ms. Rowe takes readers on in this third book of her Outbreak Task Force series, which mixes the perfect blend of suspense and romance together with fantastic, relatable and likeable characters and extremely entertaining dialogue that kept me on the edge-of-my-seat. The way this story started had me liking the hero immediately, as he isn't the easiest man to get along with. Will he finally get a partner that will be able to put up with his moods?
With the main characters, they have intense and interesting back stories that made me sympathize with the pair because of all that they've been through. Their time in the military wasn't easy and there's plenty of reason for the pair to be racked with the guilt that they are. Still, I loved how they've done their best to pick up the pieces of their shattered lives and are more than capable of dealing with the obstacles they face in their jobs that could put their lives in danger if they're not careful. Really, they're both resilient, courageous and determined to get to the bottom of their case, which is proven through the hero's admission that he needs her. Yet, what I loved most of all was how the heroine handles the hero and his moods and isn't afraid to call him on his attitude when he's getting a bit too hard to handle, which happens at times when people try to interfere with him being the best he can be at his job.
="I need your help to get this job done the way it should be."
"What do you mean, the way it should be?"
"You spent all that time in the Army getting a**holes organized and all pointed in the same direction. We're going to need your organizing mojo at every site."
"Organizing mojo? What the hell is that?"
"Your superpower." He paused, picturing her in a tight superhero outfit. "What color would you like your cape – lab coat white with an organizational chart for your superpower symbol?"=
Overall, Ms. Rowe has delivered one of the best romantic suspense books I've read in a while where the chemistry between the main characters was off-the-charts; the romance was nicely-detailed and had me loving these two together; and the ending had me worried for the main characters because of the situation they find themselves in, but had me so smiling because of how things work out for this couple. However, it was the epilogue that wrapped this story up nicely and has me looking forward to more of this series by the brilliant Ms. Rowe whose books I always enjoy reading. I would recommend Sleight of Hand by Julie Rowe, if you enjoy romantic suspense, second chance romances, or books by authors Danielle Haas, Allison B. Hanson, Tonya Burrows and Sidney Bristol.
Book Info:

Publication: January 28th, 2019 | Entangled Publishing | Outbreak Task Force #3
CDC nurse Joy Oshiro is stressed to the breaking point. College students are dying and no one knows why. And her new partner Dr. Gunner Anderson is frustratingly annoying–and sexy, but mainly just plain annoying–and proving difficult to avoid. He spent three years with Doctors Without Borders, and disillusioned is just the tip of his issues.
They'll need to learn to trust one another if they have a chance at figuring out who is behind the attacks. She makes him laugh, makes him forget–for a little while. But each new clue keeps them one step behind the terrorists, with buildings and evidence being destroyed just as they near.
Now they're in a race against time to not only find a cure but also to avoid becoming the next targets themselves.