Slow Burn by Janice Maynard is a sexy second chance/secret baby romance and the last book in the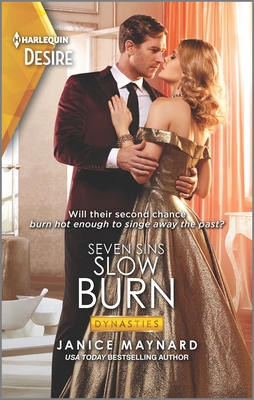 Dynasties: Seven Sins multi-authored series.
Fifteen years earlier, when Jake Lowell and Nikki Reardon's fathers embezzled money from their investment firm, they ruined the lives of several of Falling Brook's families. Nikki's father died while trying to escape the police and Jake's went missing. The young couple were just on the verge of starting a real relationship when everything happened and Jake left town. Several years later Jake and Nikki ran into each other in Atlantic City where Nikki was working as a waitress and had one sexy night together which resulted in Nikki getting pregnant. Nikki's mother tried to blackmail Jake's twin brother Joshua for money but Joshua figured out that the baby was Jake's and now Jake is back to claim his daughter – and with hopes to rekindle things with Nikki. Is this finally the time for their happy ever after?
I've enjoyed all the stories in this series and the author does a great job of tying all the loose ends together in this finale. Each story has a complete couple romance but there is an overall series plot arc that builds throughout. In this finale, Joshua and Jake's missing father Vernon has been found and is in prison. Joshua is getting married, and Jake is back for the wedding and to confront his father when his brother tells him about Nikki and her daughter Emily – Jake's daughter. Jake is stunned by the news and torn initially about what to do. He wants to be part of Emily's life if Nikki will let him but he's also avoided commitment and relationships for so long that he isn't sure he's partner and father material.
Nikki has had a hard time of things and there were several lean years after her father died when she and her mother struggled to make ends meet. She's proud of her independence and having Jake show up back in her life makes her wary. She hasn't been able to count on him, or his money in the past but she still has an intense attraction to him, and she can see that Jake is sincere in wanting to get to know Emily. Jake and Nikki share some sexy times but Jake still needs to prove to Nikki that he can be relied on to be there for her and their daughter. Jake proves his mettle at the end and though it comes across as a bit rushed, the happy ending is well deserved. I liked seeing Jake rekindle his friendship with his two brothers Joshua and Oliver, and the decision of who will be the new CEO of the family investment firm Black Crescent is finally revealed. This is a fitting end to a very enjoyable series and I hope to see these authors working together again in the future.

Book Info:

Publication: Nov 01, 2020 | Harlequin Desire | Dynasties: Seven Sins #7
The prodigal playboy is back
and nothing is the same…
…except the attraction that still sizzles between Jake Lowell and the woman he left behind. But the globe-trotting bachelor is in for a surprise! Nikki Reardon is now a mother—to the daughter he never knew. He once blamed Nikki for the fall of his iconic family…now he can't resist her. Will their slow burn spark a second chance or burn down all they hold dear?