Tall, Duke, and Dangerous by Megan Frampton is the second book in the Hazards of Dukes series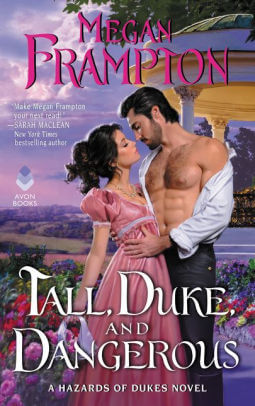 but it can be read as a stand-alone also. The book was fast-paced and had an interesting storyline that was a combination of Cinderella and Beauty and the Beast. Nash and Ana Maria had known each other for years since he was best friends with Sebastian, Ana Maria's half-brother, and Thomas, her cousin. The draw and attraction between Nash and Ana Maria could be felt instantly and simmered in the background with every interaction between the two of them.
Nash, Duke of Malvern, grew up with physical and emotional abuse from his father. His mother had left when he was young, and he had become sullen, scowling, and gruff as he grew up. He had vowed to never marry because he was afraid, he would turn into an abusive father and husband just like his father. But his grandmother convinced him otherwise when she pointed out the fact that his heir, John Davies was just like Nash's father and that his illegitimate half brothers and sisters would be subjected to John's treatment when Nash died. He had been told so may times by his dad that "you take after me in every way" he was scared to marry someone he cares about. He is afraid that if he can't restrain all his emotions, he will unleash all his anger and hurt someone. So, he keeps everyone at arms distance to protect them.
Ana Maria has had a crush on Nash since she was a young girl, but she was always invisible to him or thought of as a sister. Her stepmother had treated like a servant but with her death, Ana Maria is finally able to take her rightful place as a daughter of a duke. She wants to find a gentleman to marry that cares about her and not her dowry. After being attacked on the street, she decides she needs lessons in self-defense and who better to teach her than Nash. She sees the real man under the gruff exterior and understands him like no one else can. She provides the balance for him with her cheerful and positive personality.
The book was easy to read and I enjoyed seeing Nash overcome his fears and realize that he was not like his father. I'm so glad he finally realized that he deserved happiness. I would have like to have seen an epilogue to the story but maybe a glimpse into Nash and Ana Maria's future will be in the next book.
Book Info:

Publication: October 27th 2020 | Avon | Hazards of Dukes #2
He needs a bride…
Nash, the "dangerous" Duke of Malvern, has always bristled against the rules of English society. Hot tempered and fearful of becoming like his brutish late father, he lives a life of too much responsibility and too little joy. And although he's vowed to never marry, a duke has a duty—and there's only one way to get himself an heir and a spare. So Nash reluctantly takes a look around at society's available young ladies to see who might be willing to put up with his one-word answers and frequent glowers.
She longs for love…
After the death of her father and wicked stepmother, Ana Maria goes from virtual servant to lady-in-training, and while society life has its benefits—gorgeous gowns!—its restrictive rules stifle her sprit. And when her independent actions put her in danger, her half-brother insists Nash teach her some self-defense. While most of London's ladies find Nash intimidating, she only sees a man who needs introducing to all the joys life has to offer. So although officially they are coming together for fighting lessons, unofficially their physical contact begins to blur the line between friendship and begins to grown into something more…