Smooth Sailing by Lori Wilde is a charming, witty, lusty, adventure that will leave you with a smile on your face!
Ex playboy, Jeb Whitcomb, has vowed to change his way's after a breakup with an ex girlfriend.  His ex has agreed to give him one year in order to shape up or ship out.  In order to prove that he is a changed man he decides to help out recent hurricane victims, when he meets Haley French.  Although he wants to win back his ex he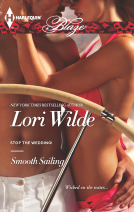 finds himself bewitched by Haley. Haley it seems is resistant to his charms.
After a night of partying on his boat, Jeb receives a text that his ex is to be married to another man.  Jeb believes that he must stop the wedding and immediately set's sail.  Little does he know that Haley is still aboard his boat.  Jeb must fight his growing feelings for Haley if he wants to win back his ex.
Straight laced Haley French finds Jeb alluring but she doesn't trust him or his playboy way's.  After a night of letting her hair down she wakes up to find herself at sail with Jeb. Unable to turn back toward home, Haley finds herself stuck aboard with Jeb. As they make their way to stop a wedding, Haley fall's for Jeb, but believing Jeb to be in love with another woman, she doesn't feel like she stands a chance.  Will Jeb be able to see that his heart rests with Haley before it is too late?
I enjoyed Smooth Sailing very much!  At times it was laugh out loud funny, at other times it was deeply sexy and romantic.  It is clear that Ms. Wilde did a lot of research for this book.  Each chapter starts out with a nautical term and definition, making it easy to understand the different terminology used in the book.
I highly recommend this book to those who are looking for a fast, fun read that will keep you up late at night, rooting for Jeb and Haley!


Rating: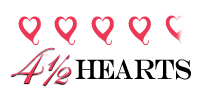 Publisher: Harlequin Blaze (March 1, 2013)
Book Cover: Sex and the sea…Desperate to win back his ex, billionaire playboy Jeb Whitcomb spent a year in self-discipline and (mostly) celibacy. He's a new man. But when she decides to marry someone else, Jeb immediately sets sail. He has only four days to stop the wedding and, worse still, he has a stowaway…the only woman who can make a newly good man behave very, very badly!R.N. Haley French is furious. For one night, she lets go of her usual boring routine, and the next she knows she's accidentally off to Florida with Mr. Sexy Superficiality, and desperately trying to forget the steamy encounter they almost shared.
And in the boat, there's no escape from each other…or the unfurling lust that threatens to send their self-control overboard!