All or Nothing by Catherine Mann is an intense and passionate romance story.
Conrad Hughes, casino magnate has been hiding his work with Interpol from his wife Jayne. After a scare and not been able to get in touch with him for a full week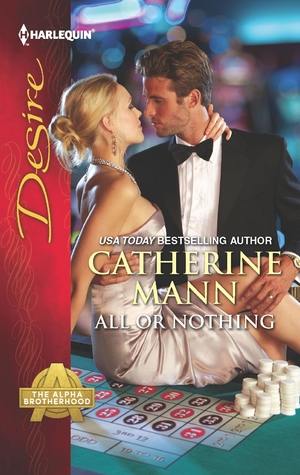 when she most needed him, Jayne cannot take anymore secrets and leaves Conrad.
Now after three years she has gone to his casino and home to get him to sign the divorce papers. This is the only chance that Conrad will have to try and win his wife back. But when her life is danger from his last assignment he will have to protect her or risk loosing her forever. As well as choose to either be open with her and tell her everything, or keep everything to himself as he has been doing and sign the divorce papers.
The chemistry between Conrad and Jayne has not diminished in all their time apart. But they know that a marriage cannot survive on sex alone and they need a stronger foundation of love to keep them together.
This story is very passionate and intense in all the adventures that Conrad and Jayne go through, whether they are the adventures in their love or the adventures from the scare of Jayne being in mortal danger bring them both.
Rating:
Publisher: Harlequin (January 2, 2013)
Back Cover: "I can't sleep with a man who keeps secrets."
Despite the warnings that he would break her heart, Jayne Hughes fell for the bad boy. And Conrad Hughes, casino magnate, did just that with his absences and lies. Now she's ready to move on, but her husband has other plans….
Conrad's undercover work for Interpol destroyed his marriage. When Jayne comes to Monte Carlo seeking a divorce, he launches an all-out assault. Seducing his wife back into his bed is child's play; earning her trust is another matter. Yet Conrad knows the odds favor the house. And he has no intentions of losing.