In Snapped by Christine d'Abo, Businesswoman Tamara Foles couldn't turn down the opportunity to get more publicity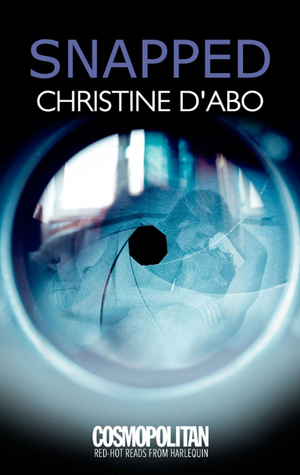 for her interior design firm by appearing on Domestic Goddess, a reality contest show. But instead of being a contestant, she's cast as the hard-nosed judge on the panel; the one who will be merciless to the designers, pushing them to their limits. Putting on an icy exterior is nothing new for Tamara, so she gets ready to play the part to help save her business.
He leaned closer, and that smirk of his made me want to suck on his lips. "You can't fool me with that Ice Queen show. I know you far better than that." He let his thumb brush across the inside of my wrist.
However, when Tamara is faced with her ex-boyfriend Reid Jacobs on the set and finds out he's the assistant director, her fake facade crumbles a bit. No one knows how to get a reaction out of her like he does. And the more time they spend together, the more obvious it is that there's something lingering between them. He seems like he's grown and changed emotionally, but he's still the sexiest, most fascinating man she's ever known. Would she be a fool for not trying again with Reid?
'Three years ago we'd been bad for each other, fighting constantly. This Reid was far calmer, happier than he'd been back then. He was clearly better off without me.'
What do you get when a self-proclaimed Ice Queen and her moody ex-boyfriend are forced to work together on a television set? Chemistry. Tons and tons of delicious chemistry along with the possibility of a reconciliation.
Snapped was a passionate Cosmo Red-Hot Reads novella that truly kept my attention. Right from the start, I could tell that there was more behind Tamara's frosty exterior than meets the eye. Author Christine d'Abo also kept me wondering what happened to Reid that made him push Tamara away a few years back. I really liked that this was more than just a steamy story. Although there's nothing wrong with that! But there were a lot more layers to these character's personalities than we readers sometimes get in shorter stories. And that made it much more interesting as well as made me more committed to finding out how it was all going to end.
Tamara's interactions with the fellow judges and contestants on the set were quite something, too. She was hired to be the demanding judge with a critical eye. And she did a good job for the most part. But there was also an innate response inside her that made her want to help the contestants, proving that she did have a heart after all. 😉 I loved how Tamara and Reid's feelings were simmering under the surface the whole time they were on set together until they couldn't overlook what was happening. They had a whole lot of pent up passion that had to get out, and boy did it ever! Even though this was a novella, not a full-length novel, I thought the plot and the characters were very well developed. Especially Reid. Once we finally got his full story…wow. It was pretty heartbreaking, but ultimately it was what caused their initial breakup and then what helped draw them closer together again in the end.
If you're a fan of second chance romances, especially those that are deeply emotional and very, very sexy, definitely check out Snapped.
Book Info:


Published January 21st 2015 by Mills & Boon Cosmo Red-Hot Reads
Reality Romance Reunion
Tamara Foles hopes acting as a judge on a new reality TV show will give her struggling interior design firm the boost it needs. But she doesn't count on being thrust into the mean girl role. Or on her ex, Reid Jacobs, being the assistant director. Whatever may have gone wrong in the past, the physical connection between her and Reid is still very much alive. Navigating an old relationship made new again is difficult enough without the whole world watching…
With all eyes–and cameras–on them, there's no more running from the past. Will Tamara and Reid survive their turn in the spotlight? There's only one way to find out.
Viewer discretion advised. Mature audiences only.