Thirty Days to Win His Wife by Andrea Laurence: Two months and your life has gone through the highest of highs and the lowest of lows, now what happens?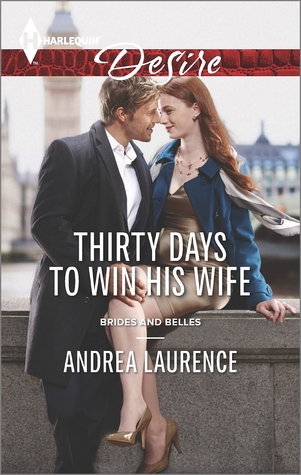 Amelia Kennedy grew up with a very idealistic viewpoint of marriage and love. So idealistic that no man has ever been able to stand up to that image. In fact the only man not related to her that has stuck around in her life is her best friend, Tyler Dixon. Tyler worked hard to get where he is in life these days, always struggling as a youth to get noticed and to get ahead. Now he is incredibly successful and as much as he loves his family his best friend Amelia is the only one that has really kept him grounded.
At their ten-year high school reunion in Last Vegas it doesn't matter that Amelia is living her dream as a co-owner of a wedding business or that Tyler is rich and a jewelry trader. What matters is that they are both single and childless. So when Tyler reminds Amelia of a promise they made ten years ago that if neither were married they would marry each other, it looks like they are going to fix one of those problems.
Will their marriage make it past the morning after? Will their friendship alone be enough to base their marriage on? Or will the search for real love always be in Amelia's head not allowing her to see what might be in front of her. Will Tyler ever allow his feelings to shine through?
Thirty Days to Win His Wife is the second book in this series and it's a very sweet and romantic story about two best friends who might not always be the smartest of people but they have the kindest of hearts and really were looking out for one another.
The love that these two have for one another shines off the pages and into the eyes of the reader. That's not to say you shouldn't have the tissues handy, because you should as well as a soft wall to throw things at during points as well. Definitely take a break from your world and enter into Ms. Laurence's with Amelia and Tyler
Book Info:

Publication: February 3rd 2015 by Harlequin Desire Series #2356
Even with a baby on the way, Amelia's holding out for the perfect husband. Tyler has thirty days to prove he's the one.
Best friends Tyler Dixon and Amelia Kennedy eloped to Vegas on a whim. But before they can deal with their quickie divorce, she confesses: she's pregnant. Now there's no way Tyler will agree to go their separate ways. He wants them to stay married, raise their child together, share a house—and a bed.
Yet Amelia has always dreamed of a perfect marriage…and she doesn't think this self-made millionaire is lifetime material despite their friendship. She's given him just one month to prove her wrong…