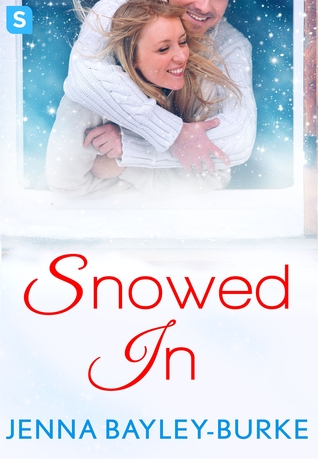 In Snowed In by Jenna Bayley-Burke, Marissa Clarke is forced to accept Scott Parker's help when her roommate leaves her without a place to stay. Marissa and Scott share a history together, one that produces some bad memories.
Marissa was engaged to be married, but during their relationship he cheated on her multiple times and before she was supposed to walk down the aisle, he called it quits. The whole time this was going on, Scott knew what was happening and that's something Marissa fails to forgive.
Scott hasn't forgiven himself for staying quiet about Chris's affairs, but he didn't want to be the one to break her heart. He's been in love with Marissa since the very first day he laid eyes on her and he's making it known that he wants her. Since they are both snowed in, it's the perfect opportunity to show her how much he wants her.
Marissa is independent and refuses to let a man dictate her life. She did that once and it didn't turn out well. She's very stubborn and it shows throughout the book. I liked Scott. He made a mistake and he's apologized for it, but Marissa can't let it go.
"I can't build a future with someone who didn't want to rock the boat to save me, and so he let me drown."
I felt like Marissa didn't deserve Scott and even though I understand how hurt and humiliated she was because of the situation, if she wasn't able to move past the problem, she needed to let him go. But Scott is persuasive, persistent, and clearly in love with Marissa, so his love for her will guide her.
The writing was well-done, the dialogue was great, and I really enjoyed the hero of the story. If you enjoy second chances, enemies to lovers, or stories that revolve around being stranded somewhere, this is a good choice.
Book Info:

 December 6th 2016 | Swerve | More than Friends #2
Marissa Clarke was going to murder someone. And that someone was her former sorority sister—now former friend—who had just kicked her out of her own hotel room…in the middle of the night…at their friend's wedding…for some hanky-panky with an old fling. So much for sisterhood. With no room in the inn and no place to stay, she's forced to accept help from the last person she ever wanted to spend the night with again: Scott, devilishly handsome, smart, and her ex-fiance's ex-best man.
Scott Parker has loved Marissa since the first day he bumped into her freshman year of college. Only he'd never been able to tell her. After all, you didn't just grab your best friend's girlfriend, kiss her and tell her she was the One for you, no matter how often he'd dreamed about it. Now, years later, Marissa is single and, in a moment of pure luck, staying at his cabin. When a winter storm blocks the roads and snows the two of them in, Scott is determined to make Marissa see there can be more between them than a shared history…if only she'll let him.