Max by Sawyer Bennett is about Cold Fury goalie Max Fournier. When Max stops at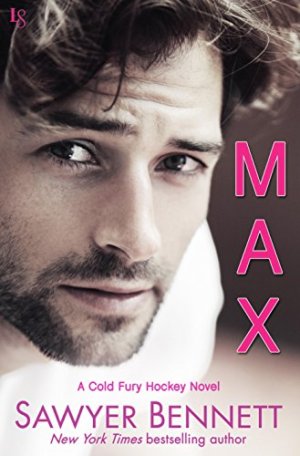 a convenience store, he discovers the cashier, Julianne Bradley, being harassed by a couple of men. Being a nice guy he intervenes, only to discover that he's attracted to her. Even when a couple of kids sneak out from their hiding spot, he makes it clear he's still interested in her.
Julianne hasn't had it easy; for the past several months she's been raising her sister's three young children. She works two jobs to make ends meat while struggling with dependable childcare for the kids. The father of the children, Dwayne, comes in and out of their life only when it's convenient for him. He doesn't pay any child support, yet starts threatening to take the children away from her.
Max was a great character. When he learns that Julianne gets fired from the convenience store for bringing children with her when she couldn't get a sitter, Max uses his fame to get it back for her. He accepts that the children are a big part of her life and easily welcomes them into his. When Dwayne starts with his threats to take the children, he stands by Julianne's side, offering any support he can.
Julianne was a realistic character that many people can relate to. While she's struggling with everything, she's trying her best. She makes sure the kids have the best life possible, and she's determined to do it on her own. With Max's fame and fortune it would have been easy for her to become dependent on him, yet she doesn't. She stands on her own two feet, refusing to accept too much help from him.
You can't help but feel for the kids. Their mother has died, their father bounces around from not wanting anything to do with them to suddenly wanting to take custody, and their aunt has a new love interest. It's a lot for them to take in, but I loved how Max went out of his way to make them feel included.
…Max insisted that each kid get to decorate their own room and pick out what furniture they wanted. I was slightly uneasy over this, but then Max did what he does best…he just simply reminded me that his commitment to me was a commitment to us as a family. That naturally included the kids, and that his desire wasn't just to have me but to have them as well.
This is the sixth book in the series but it works as a standalone. If you've read the previous book though, which is Hawke's story, you'll notice some overlap between them. Hawke's and Max's stories run parallel to one another so there's some slight crossover.
Max has become my favorite book in the Cold Fury series. The characters, especially Julianne, are well-written, realistic, and relatable. If you've enjoyed the other books in the Cold Fury series, or if you enjoy hockey romances in general, you definitely don't want to miss this one.
Book Info:

Publication: December 13, 2016 | Loveswept | Cold Fury Hockey #6
The ice is a cold mistress. As the league's most eligible goalie, Max Fournier has access to his fair share of willing puck bunnies, but right now he's more interested in bringing home another championship than a one-night stand. A romantic at heart, Max believes in love; he's just not great at relationships. So when he finally meets a nice girl who's not blinded by his celebrity, he's feeling the heat—and the pressure to save her from herself.
Between working two jobs and raising her sister's kids, Julianne Bradley doesn't have time for sports—or men. All she knows about Max is that he's the sexiest customer to ever grace her gas-station counter. And he sees past her tired eyes and makes Jules yearn for things she can't have: a glamorous fling, a passionate lover, and the time to enjoy both. Max makes her feel like Cinderella, even though Jules has enough baggage to crush a glass slipper. Luckily, he's no prince—only a fierce competitor determined to win her heart.