Snowflake Bay by Donna Kauffman: When Fiona sells her business in the city and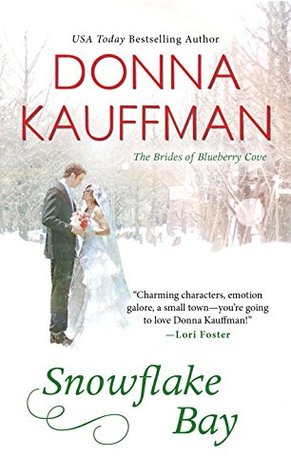 returns home to help plan her sister's wedding, the last person she expects to run into is her childhood crush, Ben, who in turn had a crush on her sister, Hannah. Ben, who had never seen Fiona as anything but an honorary little sister, now realizes that Fiona isn't so little anymore and that maybe he had been chasing the wrong sister all those years ago.
This is an enjoyable story filled with likable characters. There's Ben, who is simply a nice guy. When he realized the nickname he had given Fiona as a child actually hurt her feelings because she took it as an insult, he felt terrible and immediately tried to find a way to make it up to her.
Fiona is kind-hearted, always willing to help everyone out. She planned her brother's wedding, and then she had under seven weeks to plan her sister's. Despite the fact she was stressed with starting a new business, she refused to tell her sister no. She gave the former owner of her office a job simply because she could tell the woman wanted to still work, she just didn't want to own a business anymore. Poor Fiona gets caught in several funny and embarrassing situations, all of them in front of Ben, and as much as she tries to stay away, she can't bring herself to do it.
I loved Fiona's family. They were very supportive of both Fiona and Ben. Her brother, Logan, who also was Ben's best friend, attempted to push the two together after realizing how Ben felt about her. He even went as far as to have Ben's Christmas tree lot placed in the empty space next to Fiona's office.
Ben was certain he couldn't have heard Logan correctly. "Because parking my family's tree lot next to the one person in town who has every good reason to hate the current owner and operator of the said tree lot is a good thing? For who?"
"You. And Fiona."
This is the second book in the series, but it can be read as a stand alone, although I'm curious about the family feud that's mentioned with Hannah's family, so I'll probably go back and read the first book in the series. Logan has his own book in the Bachelors of Blueberry Bay series.
This is a straightforward story about finally realizing what has been in front of you all along with the help of family and friends. I recommend giving Snowflake Bay by Donna Kauffman a try.
Book Info:

Publication: September 29, 2015 | Zebra | The Brides of Blueberry Cove #2
There's no place like seaside Blueberry Cove, Maine, at Christmas—and there's nothing like a wedding, the warmth of the holidays, and an old crush, to create the perfect new start…
Interior designer Fiona McCrae has left fast-paced Manhattan to move back home to peaceful Blueberry Cove. But she's barely arrived before she's hooked into planning her big sister Hannah's Christmas wedding—in less than seven weeks. The last thing she needs is for her first love, Ben Campbell, to return to neighboring Snowflake Bay…
As kids, Fiona was the bratty little sister Ben mercilessly teased—while pining after Hannah. But Fi never once thought of Ben like a brother. And that hasn't changed. Except Fi is all grown up. Will Ben notice her now? More importantly, with her life in a jumble, should he? Or might the romance of the occasion, the spirit of the season, and the gifts of time ignite a long-held flame for many Christmases to come…
Something old might just become something new…