In Tall, Dark, and Wicked (Wicked Trilogy #2) by Madeline Hunter, Barrister Lord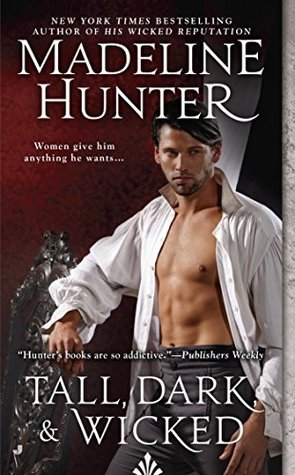 Ywain Hemingford, or Ives to family and friends, knows he's in for a challenge when Padua Belvoir pleads her father's case to him. It is unfortunate that he cannot help her for he would love to get to know her better. Being the prosecutor in the case puts Ives in a difficult position, as he begins to doubt Padua's father's criminal charges. But with his attention so captured by Padua, he will have to tread carefully so they do not fall into more trouble than he can talk their way out of.
'He was risking his good name, his reputation, and everything that mattered to protect a woman determined to leave him.'
Having sworn to watch out after her absentminded genius of a father upon her mother's death, schoolteacher Padua is willing to use all of her hard earned savings to get her father out of Newgate. But the most highly recommended barrister, Ives, is now her adversary. As Padua fights to save her father, she also grows more deeply attracted to Ives. His wit, his charm and his sincerity all adds up to be more than she can walk away from. Padua only hopes that they will arrive at an ending that will not break one or both of their hearts.
'She balanced on a precarious ledge with this man. One nudge, one encouragement, and she suspected he would not leave the house. By morning she would be seduced. Inevitably. From the looks of Ives, magnificently.'
Tall, Dark, and Wicked was a sensual historical romance that paired two highly intelligent, extremely likable characters who challenged each other in the best of ways. So much fun!
This is actually book two in the Wicked trilogy but I found it very easy to read as a standalone. (Although I'm sure I will be going back to read Gareth and Eva's story as well!) Not only was I impressed with the attention to detail author Madeline Hunter used, but I enjoyed the snappy dialogue that was smart but not pretentious. As much as I loved the conversations Padua and Ives carried on, I think my favorites were between Ives and his brothers. I thought Ms. Hunter captured their spirit and love of joking around perfectly. It kept me chuckling long after the scenes were over.
The relationship between Ives and Padua was one that evolved as the story played out, which seemed realistic to me. They had an instant attraction, but they both knew that acting on it would only compound their troubles with Padua's father's case. I really liked that Padua was such a forward-thinking woman. She was independent but still was loyal to her father and friends at the school. Her headstrong ways made it difficult for Ives, but he seemed to thrive on the challenge. That was such a great aspect of their connection. He wasn't intimidated in the least, being a strong-willed man himself. And they ended up working together very well, thankfully.
With a bit of mystery, ongoing family issues, and some wickedly sinful moments, I think historical romance fans will enjoy every page of Tall, Dark, and Wicked.
Book Info:

Publication: Published October 6th 2015 | by Jove | Wicked Trilogy #2
A wickedly wonderful new romance from the New York Times bestselling author of His Wicked Reputation
Most women will give him anything he wants. She is not most women…
As a well-known barrister and the son of a duke, Ives confines his passionate impulses to discreet affairs with worldly mistresses. A twist of fate, however, has him looking for a new lover right when a fascinating woman shows up in his chambers, asking him to help save her father from the gallows. Unfortunately, he has already been asked to serve as the prosecutor in the case, but that only ensures close encounters with the rarity named Padua Belvoir. And every encounter increases his desire to tutor her in pleasure's wicked ways…
Having always been too tall, too willful, and too smart to appeal to men, Padua Belvoir is shocked when Ives shows interest in her. Knowing his penchant for helping the wrongly accused, she had initially thought he might be her father's best hope for salvation. Instead, he is her worst adversary—not least because every time he looks at her, she is tempted to give him anything he wants…