In So Tough to Tame (Jackson #3) by Victoria Dahl, Charlotte "Charlie" Allington learned a tough lesson at her previous job: the only person she can trust is herself. So she travels back to Jackson Hole, Wyoming, her hometown, for a security specialist job at a new resort. Charlie hopes to reinvent herself after the catastrophe she just had to fight her way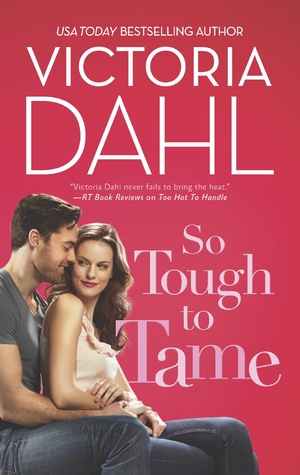 through. The biggest plus about her new apartment at the so-called Stud Farm is her childhood friend Walker Pearce lives just across the hall and he's just as handsome and charming as ever.
'No, love wasn't for her. Love was the opposite of security, and security was Charlie's specialty.'
Walker was always popular with the ladies and it seems like he still isn't the type to settle down. That's alright, because Charlie's up for some fun with the rugged cowboy. She had a crush on him in high school and it will be fun to see if he lives up to her fantasies. Charlie is having the time of her life until secrets from her and Walker's pasts interfere. Her world gets turned upside-down and she has to make some tough decisions about her life and especially about who she can trust.
'As for love… God. She hoped it never happened to her. There was no motive to that at all. It was just a natural disaster that slammed over you and took you down.'
Cowboy Walker Pearce can't believe his luck when Charlie moves in across the hall. He always thought she was cute in high school but was way out of his league. Now is his chance to have a good time with her, as is his usual M.O. Yet somehow a casual fling doesn't sound as enticing as it once did. Walker is shocked to find that Charlie makes him want to look at his life and possibly make some changes that he thought would never happen in a million years. But the more he analyzes it, the more upset it makes him. Should he change his ways for the sassy brunette?
'This wasn't good. He like this girl. He respected her. He was a little in awe of her and always had been. Mix that up with insanely delicious sex, and Walker was in big trouble. Damn.'
Victoria Dahl has written another incredibly hot and heavy novel in the Jackson series. So Tough to Tame tells Charlie and Walker's story, but we also get to catch up with our favorite characters from the first two books as well. One of mine is Rayleen…and let me tell you, she's just as hilarious and tough-as-nails as ever!
Book three continues with the tradition of sexy cowboys, sassy independent ladies and naughty dialogue. I thought the pace of the story was perfect. And there was a little bit of a mystery going on as well to keep the reader interested in the plotline.
Charlie and Walker were so, so, so very good together. He remembered her as the sweet, good girl who helped him in school and wasn't expecting to find a sexy, flirtatious woman instead. Charlie thought she knew what she was getting into, having a fling with him, but she didn't expect to want anything further. I loved the funny, raunchy dialogue between them and whew…the love scenes were beyond hot.
If you like your Contemporary Romance deliciously hot, definitely check out So Tough to Tame. What a fun ride!
Book Info:

HJ Top Pick
Published September 24th 2013 by Harlequin HQN
Tough to tame, but not too tough to love… Charlie Allington is supposed to be on the fast track to the top-a small-town girl who was making it big in her career. Instead, she's reeling from a scandal that's pretty much burned all her bridges. Now, out of options, she needs a place to lick her wounds and figure out her future. True, working at a ski resort in rugged Jackson Hole, Wyoming, isn't her dream job. But if there's one perk to coming back, it's a certain sexy hometown boy who knows how to make a girl feel welcome.
Cowboy Walker Pearce never expected a grown-up Charlie to be temptation in tight jeans. She's smart and successful-way out of league for a man like him. But he's not about to let that, or his secrets, get in the way of their blazing-hot attraction. Yet when passion turns to something more, will the truth-about both of them-send her out of his life for good…or into his arms forever?