In Soldier's Christmas Secrets by Laura Scott, Hawk Jacobson has survived a stint in Afghanistan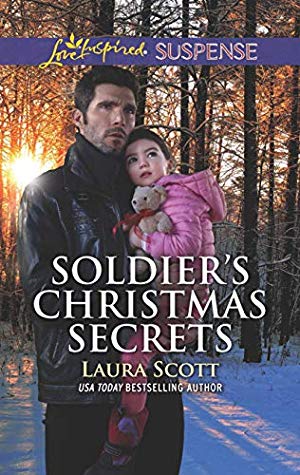 and a plane crash on his way home. Someone had tried to kill him, but for a couple of years he couldn't even remember who he was, let alone why someone would want him dead. Now that he finally has some of his memory back, he moves in next door to his wife and five-year-old daughter, who was born after his "death", to keep an eye on them.
Jillian Wade doesn't know why her neighbor, Hawk, is in her house with a gun, until she sees the masked men he knocked out. Convinced they're in danger, Hawk, Jillian, and Lizzy go on the run. With a little help from some of Hawk's friends, will they be able to untangle the mystery of why someone would want Hawk and Jillian dead? And will Hawk confess to Jillian who he really is?
First off, this book is heavy on religion, so if you don't enjoy books where the characters are religious, say grace before every meal, and pray a lot, you'll probably want to stay away from this book. I'll admit those type of books are not usually my thing, but that wasn't my biggest problem with this book.
Hawk has been living next door to Jillian for five months, helping her around her house, yet she doesn't recognize him simply because he now has a large scar on his face? I couldn't buy it. I also couldn't buy that Hawk had finally remembered who he was at least two years earlier, but he didn't go back to Jillian right away. Instead, it takes him two years to move next door to her. Not only that, but he didn't approach her and tell her who he was (although she should have recognized him). One would think he'd be thrilled to get back to his wife and daughter, yet his actions suggest otherwise.
Some of the actions of the characters also didn't make sense. For example, Hawk, Jillian, and Lizzy had just escaped Jillian's house and the group of men that had trailed them. They find the bad guys' vehicle, and Jillian insists they have to go back to the house to get Lizzy's car seat. Yes, back to the house where they just escaped from. How does she know some of the guys weren't still there? She was really willing to risk all their lives for a car seat?
I felt like I was missing the connection between Hawk and the Callahan siblings, as well as why they felt they owed him. It looks like the Callahan siblings have their own series called Callahan Confidential; I have not read any of those books. I'm assuming Hawk was introduced in them. It would have been nice to have a little background on it, considering Hawk didn't even let Jillian in on how he knew them.
I feel the blurb for the book is somewhat misleading. It makes it sound like Hawk has complete amnesia. While there were still some holes in his memory, he had already regained a large amount of his memories before reestablishing contact with Jillian. Also, while the title has Christmas in it, the book really has nothing to do with Christmas other than all the action takes place around the holiday. If you're looking for a holiday book, you're going to be disappointed.
The suspense was decent, but it would have been better if it wasn't interrupted by some of the ridiculousness of the characters (such as the previously mentioned car seat episode, amongst other things). Readers of romantic suspense may enjoy this book, but it wasn't for me.
Book Info: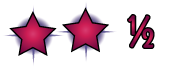 Publication: November 1, 2019 | Love Inspired Suspense | Justice Seekers
When a plane crash leaves special ops soldier Hawk Jacobson with amnesia, all he knows is that the plane was sabotaged and he has a target on his back. His survival depends on letting everyone—including his wife, Jillian Wade—believe he's dead. Until gunmen come after Jillian and the daughter he never knew existed. Can Jillian help him regain his memory in time to expose a killer?