In Something Like Happy by Eva Woods, Since tragedy struck her life and changed everything in the blink of an eye, Annie Hebden's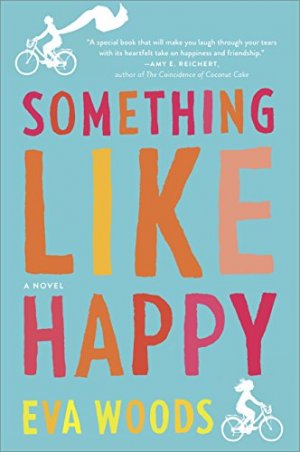 days have been nothing but pure drudgery. From her damp London flat to her unsatisfying job to her lack of friends or a social life, she can't seem to move past everything that's happened to her. A chance encounter with a woman who is her polar opposite in every way becomes the catalyst for change in Annie's life. And thanks to her new friend Polly Leonard's upbeat attitude and one hundred days project, she begins to slowly open herself up to new sights, sounds, and experiences.
"I want to show it's possible to be happy and enjoy life, even if things seem awful."
Through Polly's not-so-subtle prompts, Annie is forced to not only take a hard look at her life and her downtrodden outlook, but she's also attempting to let go of her grief and hurt over the past. Somehow with each new day she faces with Polly and the wacky adventures they embark upon, all in the name of finding their happy, Annie feels more like herself again. But when things take an expected but untimely turn, she's left wondering if she's really grown strong enough to deal with more loss in her life and how she'll carry on in the face of more grief.
"It's just–we'd have had nothing in common, if we'd met before all this."
Polly didn't lie. "Maybe not, no. But here we are, and I'm not sure I can get through this without you, so you're stuck with me now, Annie Hebden. Only person who's ever beaten me in a sob-story competition. Damn you."
Something Like Happy is the perfect name for Eva Woods' latest work of fiction. Introspective and charming, this followed two women who were both dealing with life-shattering issues, trying to find a kernel of happiness–or something close to it–in the midst of chaos.
"That's what living is, I think. Letting it all in. The happy days, the sad days, the angry days. Being awake to it."
Boy was this an emotional read with lots of ups and downs, full of tragedy and even some moments of joy. I think this will be a tough story to get through for a lot of readers as it deals with terminal illness, loss of a child, infidelity, depression, dementia. So many difficult things to overcome. But what I admired about this book was how author Eva Woods was able to show how friendship and camaraderie, as well as taking one small positive step forward each day, can make a tremendous difference in our lives. It may sound a bit sappy, almost like a motivational speech, but it was so touching to see how the way our characters perceived things and their resulting attitude could change things greatly in their lives.
I really loved the quirky characters we got to meet. Like, seriously adored them all in their own way. And the unlikely friendship that blossomed between Annie and Polly was terrific. I giggled at Polly's unique fashion sense and the crazy things she got Annie to do during their one hundred days project. And I cried when things didn't go as planned. I felt Annie's pain over all she'd been through and cheered her on as she started to rally a little bit and began to live her life again. The same went for the supporting characters (George, Costas, Dr. Max, Dr. Quarani) as we learned about their issues as well. I loved how they all interacted and the emotions that Woods added to each scene. I don't know that I've had a book make me alternate between laughing and crying so often but it was well worth it in the end.
Proving that out of heartbreaking circumstances some positivity can still be found, Something Like Happy took me on a journey I won't soon forget. I think readers will fall for these realistic characters and root for them as they learn about themselves and about life in general.

Book Info:

Publication: Published September 5th 2017 | Graydon House |
With wry wit and boundless heart, Eva Woods delivers an unforgettable tale of celebrating triumphs great and small, seizing the day, and always remembering to live in the moment.
"It's simple, really. You're just meant to do one thing every day that makes you happy. Could be little things. Could be big. In fact, we're doing one right now…"
Annie Hebden is stuck. Stuck in her boring job, with her irritating roommate, in a life no thirty-five-year-old would want. But deep down, Annie is still mourning the terrible loss that tore a hole through the perfect existence she'd once taken for granted—and hiding away is safer than remembering what used to be. Until she meets the eccentric Polly Leonard.
Bright, bubbly, intrusive Polly is everything Annie doesn't want in a friend. But Polly is determined to finally wake Annie up to life. Because if recent events have taught Polly anything, it's that your time is too short to waste a single day—which is why she wants Annie to join her on a mission…
One hundred days. One hundred new ways to be happy. Annie's convinced it's impossible, but so is saying no to Polly. And on an unforgettable journey that will force her to open herself to new experiences—and perhaps even new love with the unlikeliest of men—Annie will slowly begin to realize that maybe, just maybe, there's still joy to be found in the world. But then it becomes clear that Polly's about to need her new friend more than ever…and Annie will have to decide once and for all whether letting others in is a risk worth taking.
"A special book that will make you laugh through your tears with its heartfelt take on happiness and friendship."—Amy E. Reichert, author of The Coincidence of Coconut Cake.