Something Like Love by Claudia Y. Burgoa: Chloe Lafferty is on the top of her game professional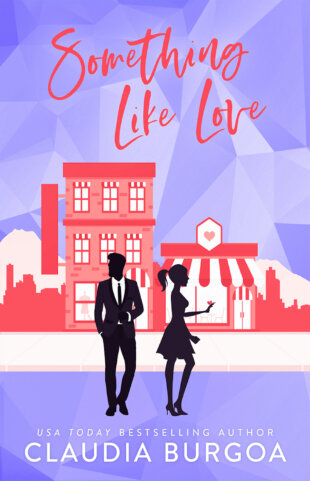 and personally but all it took was one person to cause her hard earned world to come crumbling down. Now not only is she homeless but all her baking supplies have been taken as well which leaves her jobless on top of everything! If having put her trust in the worst person possible wasn't bad enough now Chloe has little to no choice but to work with the person that she hates most the annoying Burke St. James.
Burke is determined to grow his business and now he has his sights firmly set on adding a new vineyard to his portfolio, the only problem being the current own is a very family orientated and is only willing to sell to some that is married or engaged, both of which is definitely not our playboy Burke St. James. If having to figure out a way to dance to the sellers wacky tune wasn't work enough the last thing that Burke needed was for his so called friend and business manager Maddox to swindle him! But maybe this could be just the break that Burke needs, you see he wasn't the only one that Maddox did dirty, it would seem that Maddox also swindled Chloe the girl that Burke just couldn't stop thinking about. Now with Chloe homeless and Burke in need of a fake wife maybe these two could be the answer to each others problems… the only they both need to remember is this is all just an act…
"It exists, you know,"
"What?"
"Love. It's real even if you don't see it or if you've never witnessed it."
Loved! I just loved reading this hilarious fake turned real romcom, this has to be easily one of my favourite tropes which made it that much easier for me to get invested in Burke and Chloe's story. At first it took me a bit to get invested in the story but as soon as things began to flow it was pretty hard to put this book down! I absolutely loved getting to see these two break their own rules and realise that they had been wrong about one another all this time.
"That kiss…It gave me hope, warmth from her personal sunlight, and it touched the corners of my heart that had never seen the light."
Burke St. James well he was an interesting one, as much as he came off as this arrogant, rude, playboy that didn't care much for anyone but himself, once you got to know him you got to see the real Burke. The soft and caring guy. I just loved getting to see him interact with his hilarious family, I just ate up the fact that they were all so over involved in his life or tired to be at least! His siblings were just hilarious but it was his over the top over sharing parents that won the prize for me.
"Sometimes I believe she's sunshine in human form. So bright. She shines like the sun in the middle of summer."
As for our girl Chloe, oh she was just a sweet heart and it truly broke my heart having to see her get swindled by that no good Maddox! I loved her character to bits and her love and believe in true love, romance and soulmates, which made getting to see her falling for Burke the one guy she swore that she would never get involved with all the more delicious! Her passion for cooking and baking just sang to my foodie heart which made me root her on all the more in her dream to open her own catering company. The thing that I lived the most about Chloe was that she was so relatable, she was the type of character that you could instantly connect with and empathise with. I just love a come up story and our girl Chloe was just that fighter we needed! It also didn't hurt that she never backed down from a challenge with Burke.
"His embrace overwhelms me. It's as if I'm finally home after a long trip and I can let all my emotions go."
I just loved this couple, their chemistry was fire hot and boy did they end up burning the pages! There is just something about the whole hate turned love connection that makes a couple all the more enthralling and this was Burke and Chloe down to a tee. I really enjoyed getting to see them fake their relationship while fighting to maintain their own rules and failing miserably to do so.
Something Like Love is a definite must read this hilariously addictive fake turned real romcom will have you hooked with this couples sizzling hot chemistry as they try to walk the fine line between fake turning into real.
Book Info:

Publication: April 12, 2022 | Claudia Y. Burgoa | Against All Odds #5
We have to pretend that what we have is something like love…
I'm down on my luck.
Scratch that. This is the worst week of my life.
Enter the last person I want to deal with: Burke St. James.
He's wealthy.
He's a womanizer.
And a big liar.
And it turns out we need each other.
Burke needs a fiancée to seal the deal of a lifetime. I need help or my business is going belly-up. So, Burke very non-romantically asks me to marry him. Well, he asks me to be fake engaged to him, anyway.
I'll attend a few dinners, pretend I'm in love, and meet the family.
In exchange, he'll invest in my company and help me launch it off the ground.
All is easy, except his kisses feel more real than they should.
And the sex…damn, we're not supposed to have sex.
It's all for show…right?
Did I mention he's a really good liar?
Pretending not to fall in love is more complicated than I thought.