Something So Irresistible (Something So #3): Natasha Madison has quickly become one of my favorite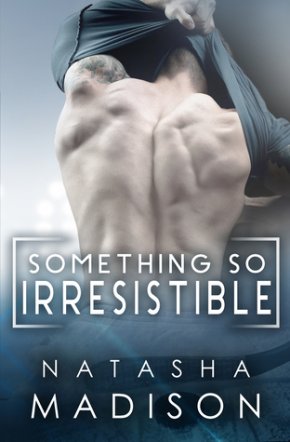 rom-com authors, and Something So Irresistible has everything I have come to expect from her – heartfelt romance, fan-yourself-worthy love scenes and laugh-out-loud moments. If you are looking for your next book boyfriend, look no further, because hero Max Horton is broody, moody and swoony.
Max is a professional hockey player, who is known for his bad boy antics and grouchy disposition. He's surly, and the only person he cares about is his sister. His teammate's little sister, Allison Grant, starts working for the team in public relations, and they immediately clash. Max doesn't want to participate or be helpful when Allison is trying to get her job done, and he antagonizes her to no end, but there is a powerful attraction simmering beneath all of their animosity that is slowly pulling these two enemies together with an unrelenting force.
Max and Allison share sizzling, snappy banter and are mesmerizing to watch as they dance around each other trading barbs and quips. Max slowly reveals himself to be much more than he first appears, and readers will fall in love when this bad boy proves himself to be a great guy. He and Allison are absolutely perfect together, and there's nothing not to love about Something So Irresistible.
ARC provided, but this review was voluntarily and honestly written.
Book Info:

Publication: 1/9/18 | self-published | Something So #3
Max Horton
They call me an outcast like it's a bad thing.
An asshole byproduct of a shitty upbringing. I don't care about anything except myself and my little sister.
I will always protect what's mine.
With one year left on my hockey contract I'm keeping my head down and my eyes on the goal.
A collision, with her, changes my entire existence.
Allison Grant
Never fall in love with a sports star. That's what my stepfather always said. He told me athletes are complicated and moody—that the higher their paycheck, the lower their morals.
As public relations for the New York Stingers I know exactly what he means, but I can't seem to say no to a friendship with one beautiful, damaged man.
What started out as hate turned into something else.
We tried to stay away, to keep our distance, but the pull was too strong.
Something forbidden turned into something so irresistible.