Duty to Defend by Jill Elizabeth Nelson, is an extremely well written romantic suspense that will keep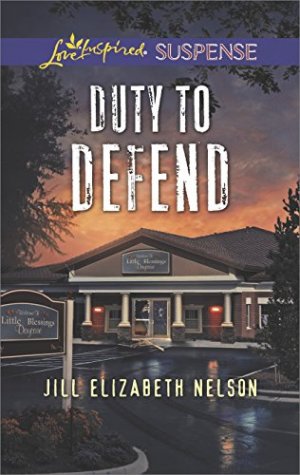 fellow readers mesmerized until the last page.
In A Duty to Defend, rookie US Marshal "Daci", is partnered with former marshal turned child advocate attorney Jax, to protect the former girlfriend of a dangerous escaped felon. The girlfriend, Serena, is going through court ordered probation and starting employment as conditions of earning custody of her infant son with special needs. Daci is charged with befriending and protecting Serena, and also in finding "Naylor", the escaped dangerous felon, before he can kill anyone else.
Unfortunately, it seems there are evil characters searching to harm Daci, and Jax is fortunately nearby to protect and save Daci from attempts to harm her and take her life. Daci and Jax start to question whether these attempts are random and separate, or somehow inter connected with their assignment to protect Serena.
I do not wish to provide any "spoilers", so I will simply say that I most definitely recommend Duty to Defend to fellow readers searching for a romantic suspense novel to enjoy during the holidays!
Book Info:

Publication: January 2, 2018 | Love Inspired Suspense |
Working undercover at a day care, Deputy Marshal Daci Marlowe has one mission: protect a mother and her infant son from the woman's fugitive ex-boyfriend. But when someone seems more focused on killing Daci, she and her partner, child-advocate attorney Jax Williams, must figure out why before it's too late.
With her family's tragic past and her experience raising her siblings, Daci can't help but relate to the woman and child–even as she's drawn to Jax. Daci knows that Jax has his own harrowing past, though, one that makes the handsome defender keep her at arm's length. But with each attempt on Daci's life, Jax comes closer to both Daci and a dangerous truth.