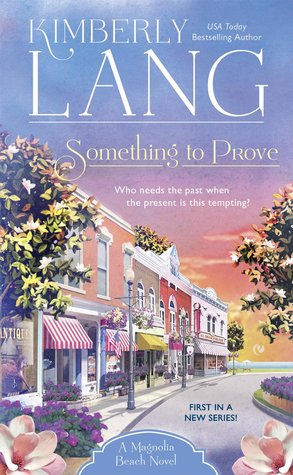 Something to Prove by Kimberly Lang: Helena is back in Magnolia Beach in order to get everything ready for when her grandma can return home. Helena left without a goodbye years ago and she's never been back. Helena is both a legend and a cautionary tale; she ran with a rougher crowd and was often in trouble for her youthful pranks throughout high school.
Ryan is the town golden boy and a very eligible bachelor. He's from a good family, was in the popular crowd in school, and currently serves as the town mayor. Outside of his mayoral duties, he works as a contractor.
Helena's in need of a good contractor, and she finds herself in the position of hiring Ryan to do the work on her grandma's house. While they went to high school together, they never really knew each other. With Ryan over at the house most nights, they have plenty of opportunities to get to know each other as adults, as well as to address Helena's reputation.
"Indeed." She blew out her breath. "Well, that's far enough down memory lane for one evening. I need to get back to work."
"Aw, come on. I still have so many questions."
"What am i? The Magnolia Beach Petty Crime Encyclopedia?"
Helena just wants to take care of her grandma, but she quickly finds that the town has a very long memory where she's concerned. Ryan was interested in her back in the day and is finally willing to make a move and pursue her. Helena wants to keep her time in Magnolia Beach simple and minimize any impact on Ryan, so she insists on a discreet fling.
"Oh, shit. You're the mayor." She got up and started to pace as she realized the ramifications of this.
Ryan looked at her like she was a little slow. "Yes," he said carefully, "but you knew this already."
"I knew it in theory, but it wasn't real. Christ. Magnolia Beach will lose it's collective mind if they find out Mayor Tanner had sex with Hell-on-Wheels."
Something to Prove is a fun, small town romance between characters who are opposites. Kimberly Lang incorporated regrets, redemption, meddling families, and caring for family into a very relatable story. Ms. Lang wrote an entertaining story with interesting secondary characters. Fans of Beth Ciotta will enjoy Something to Prove.

Book Info:

 June 2nd 2015 | Signet |
In the small waterfront town of Magnolia Beach, Alabama, people may forgive, but they never forget—especially when it comes to scandalous reputations, juicy gossip, and a sexy new flame.
Former wild child Helena Wheeler was happy to leave behind her hometown—and her sordid past—for Atlanta twelve years ago. But when her grandmother suffers an injury, Helena has no choice but to return, even if it means facing down all the people who have shunned her.
Ryan Tanner went from being a football legend in high school to Magnolia Beach's young, hot bachelor mayor. As a teenager, he never wanted anything to do with a girl like Helena. But when she hires Ryan to do some construction in her grandmother's house, he finds that she's grown up into a different person—one he quite likes.
For Helena, confronting her past has its share of surprises—and falling for the resident golden boy was definitely not on her to-do list. But will her reformed ways be enough to get her back in the town's good graces, or will her reputation keep Helena and Ryan apart for good?