Southern Heartbreaker by Jessica Peterson: Eva has lost her muse. She's a celebrated pit master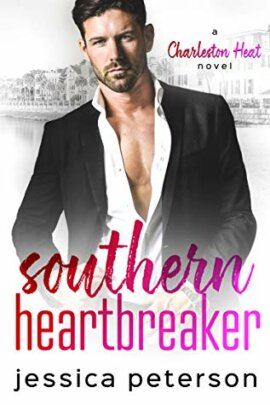 and cookbook author, but she can't figure out what to do for her second cookbook and her deadline is looming. She's independent, creative, feisty, and determined not to be her mother. In returning home to Charleston, she's hoping to rediscover her muse.
Ford is back at work after a hiatus to grieve. He runs a venture capitalism firm with his brother and he loves his job. He's sexy and charming and maybe ready to try dating again. He's a devoted father to his adorable little girl.
While Eva loves being around her family and friends, she's not looking forward to the inevitable run-in with her ex, Ford. They were together in college before he unceremoniously broke her heart. Unfortunately for Eva, the years have been kind to Ford and their chemistry and connection seems to be as strong as ever.
"Are you going to cancel our dancing date if I say yes?"
"This is a date?"
"Yes."
"What if I don't want it to be?"
"Then I change my answer to no. No, it's not a date. It's whatever you want it to be." I meet her eyes. "Take the hint, Eva. I just want to be with you. You're the one calling the shots here."
Both have changed since their college days and now Ford definitely goes after what he wants. Eva makes him feel again and he makes it quite clear that he wants another chance. They certainly have a lot of fun together and Ford boosts her confidence and helps to rekindle her creativity. One thing definitely leads to another when they start spending time together.
"Yes," I say, relieved and hopeful and practically panting at the idea of seeing her. "We'd love to come."
She laughs. "Wow. You're really not one to play hard to get, are you?"
"Never was. What time do you want us? And what can I bring?"
"Welp, what time does Bryce go down? Maybe a couple of hours before so we can all hang out?"
Southern Heartbreaker has banter, heat, conflict, family, and friendship in one entertaining package. Jessica Peterson developed characters and a story that is engaging yet very relatable. Ms. Peterson continues to create fun, sexy, and really enjoyable stories. Southern Heartbreaker can be read as a standalone in the Charleston Heat series. Fans of Erika Kelly and J. Daniels will enjoy Southern Heartbreaker.
Book Info:
Kim| 4.5 Stars | HJ Recommends | No |
Publication: Expected publication: October 24th 2019 | Peterson Paperbacks | Charleston Heat #4
He was the bad boy I fell for in college. Now he's a sexy single dad and Charleston's most successful venture capitalist. Dominant and decisive, Ford Montgomery is used to getting what he wants. And he just set his sights on me…
Ford Montgomery was my first everything.
First love.
First guy I slept with.
First heartbreak when he dumped me without explanation.
A decade later, it's just my luck he's the first guy I run into after moving back to my hometown of Charleston. Three piece suit, tie, and a watch worth more than my car—being a mogul looks good on Ford. So does being a doting dad to his adorable four-year-old daughter.
I tell myself I can resist him. But one impulsive, ill-advised kiss later, and Ford is in hot pursuit. He's determined to make up for his past mistakes, and convinces me to give him a second chance.
What started out as fun between the sheets gets really serious, really fast. Problem is, I swore I'd never give up the dreams I worked so hard for to settle down and do the family thing.
But seeing Ford light up around his daughter—seeing how he's chasing his ambitions while rocking fatherhood—is making me rethink what I want out of life.
It doesn't help that behind his corporate veneer is the bad boy I fell in love with. And bad boys aren't afraid to play dirty…or break hearts.
SOUTHERN HEARTBREAKER is a full-length, STANDALONE romance releasing October 24, 2019. It is part of the Charleston Heat Series, which is a series of interconnected standalone novels set in the steamy southern town of Charleston, South Carolina.
SOUTHERN CHARMER: Oliva and Eli's book
SOUTHERN PLAYER: Gracie and Luke's book
SOUTHERN GENTLEMAN: Julia and Greyson's book
SOUTHERN HEARTBREAKER: Eva and Ford's book