In Don't Give Me Butterflies (The Holloway Girls #3) by Tara Sheets, Kat Davenport never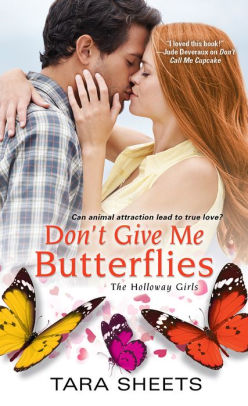 imagined she'd find herself without a job. However, deciding to stay in Pine Cove is just what she needs, especially when she feels such a connection to the place. Then again, it could be the Holloway cousins that makes her feel such a connection, especially when they have a gift just like she has one of her own. Yet, she never thought staying in Pine Cove would lead to her finding the love of a lifetime. Will she give Jordan Prescott a chance or will he break her heart because he has no plans to stay?
"I'm sorry," she managed. "I didn't notice your sandwich. It's this stupid costume. I can't even see my feet."
His gaze swept slowly over her. She tried to appear calm and unfazed, but it wasn't easy. He was one of those gorgeous-by-accident types of people. The kind who didn't even have to try. Not like the carefully groomed pretty boys she'd worked with in L.A. Certainly not like her ex-boyfriend who had more clothes and hair products than she did. Nothing about this man was soft or pretty.
Having absolutely loved the first two books of this series and being introduced to Kat Davenport — a heroine with such a unique gift – I couldn't wait to discover more about her because she's an interesting character that makes impulsive decisions and staying in Pine Cove is her biggest yet, especially when she has no job. Will staying in Pine Cove be good for her? Will she discover why she feels such a connection to the place?
The way this story started had me liking Kat immediately, as she's willing to do whatever it takes to remain in Pine Cove and if that means taking a job where she'll have to face a little embarrassment then so be it. However, it was from the moment where she comes face-to-face with the hero for the first time that makes this story memorable and had me reading quickly determined to discover how their next encounter would go. Will Kat embarrass herself again?
"The problem isn't him; it's me," Kat said in resignation. "I'm the Queen of Impulsive Decisions."
Juliette laughed and drew up her knees, hugging herself. "Yet another reason for me to love you. We have a lot in common."
Kat sighed. "When I made the decision to move here, I promised myself I would stick to the plan. Make a life here that's on my own terms. Figure out what makes me happy and not get sidetracked…"
"And you're getting sidetracked?" Juliette asked with the barest hint of a smile.
With the main characters, both were wonderful characters that had me invested in their growing relationship, as neither are looking for a relationship but they find they can't seem to stay away from each other. Furthermore, I enjoyed how these two balanced each other. Jordan is Mr. Serious and determined to get back to his life while Kat is a bit of a mystery and a lot impulsive. Certainly, the pair being opposites creates really good tension and made me wonder whether Jordan would be able to win Kat over and vice versa.
Overall, Ms. Sheets has delivered a delightful read in this book where the dialogue was entertaining because of every interaction between the hero and heroine, most especially the first time they meet; the chemistry between this couple was strong and had me cheering for this couple to take a chance on each other; the romance had me smiling because it definitely proves opposites attract; and the ending was heart-warming because of the decision the hero makes. Then again, Kat is good for him, so how could he not make the decision he makes. I would recommend Don't Give Me Butterflies by Tara Sheets, if you enjoy small town romances or books by authors Donna Kauffman, Peggy Jaeger, Debbie Mason and Cindi Madsen.
Book Info:

Publication: July 30th, 2019 | Kensington Books | The Holloway Girls #3
Pine Cove Island calls to her soul…
As the Queen of Impulsive Decisions, Kat Davenport has found herself without a job or a place to live. So settling on Pine Cove Island isn't the sanest choice–meaning it's perfect. Like the mysterious Holloway cousins, Kat has her own unique gift. In her case, it's a knack for communicating with animals. Which makes getting hired at the local animal shelter feel like kismet. Especially when she finds a room to rent at a nearby lavender farm–complete with a sweet landlord and her brawny grandson–a guy who happens to give Kat an all-too-familiar flutter in her stomach…
Jordan Prescott isn't back in Pine Cove to find romance. He's here to sell the family farm, a fact that bewilders Kat. A former foster kid, she can't understand why he'd give up his childhood home. So when the big-hearted beauty starts bringing home strays from the shelter, Jordan is suddenly her adversary. Until their fiery disagreements turn into fiery kisses…
Now Kat is falling for a man who will likely make her homeless yet again. Unless she learns how to lend her considerable powers to taming the beast lurking inside this prince…