In Spellbound by Sylvia Day, A Familiar Kind of Magic introduces us to Max the Hunter who is a powerful warlock chosen by the High Council to tame feral shifter Victoria. Max normally gets his target to submit before turning them over to be placed with their chosen mate. But he feels a bond with Victoria that he never expected to crave. Nor did he realize how much magic she possesses within herself. Together they could become a powerful force, if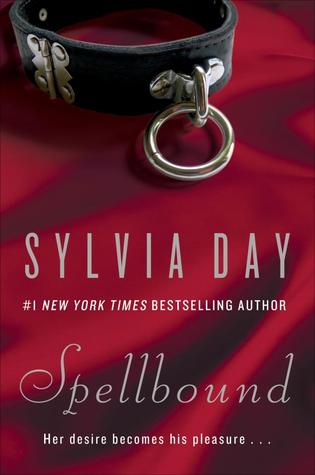 they can just find a balance to their burgeoning relationship.
"To submit is not to be weak," he crooned in a husky, hypnotic tone. "You would not be less of a woman, kitten, but so much more of one."
That Old Black Magic is the second story in Max and Victoria's power struggle. Theirs is a fiery love that is meant to be but with an old foe still lurking about, they must find a way to combine their magic and defeat the Triumvirate. As they learn to harness the strength that grows within them day by day, they each worry about losing their soul mate in a battle against those who use black magic.
'Her eyes widened, then softened with love. "You've never been afraid before."
"I never had anything to lose."
In Black Magic Woman, Max returns to his Hunter ways much to Victoria's chagrin. She wants to be equal partners in the relationship, including his job, but the two rogues that Max is after could put her in serious danger. And Max isn't willing to let his soul mate be taken away from him. With dark magic being used by the rogues to their advantage, Victoria and Max are pulled into the storm, hoping they'll make it out alive.
'Time had just run out. He couldn't fail in this. Failure would cost him more than loss of pride. It would cost Victoria her life.'
Spellbound is a collection of three short stories by Sylvia Day that is one part paranormal romance and many parts erotic romance. And readers be forewarned: there is some serious dirty talk and explicit love scenes featuring Dom/sub action in this one… 😉
All of the stories in Spellbound revolve around Max and Victoria, starting first with how they meet and then progressing through the next two years of their lives. I'm the kind of reader who likes to have related short stories packaged nice and neat together in one volume so I can read everything about the characters and get closure whenever possible. And that is precisely what we have with this collection, which includes the never-before-released Black Magic Woman.
I've read the Crossfire series Sylvia has written but had yet to read any of her paranormal offerings. I must say I liked the combination of the paranormal and erotic genre, and it worked very well with the relationship between Max and Victoria. They are both very dominant characters so I thought the power struggle between them was interesting and rather exciting. It seemed a little different at first that Victoria being a Familiar/shifter (cat) would be dominant, as in their world Familiars are usually submissive, but it did work for her personality and created the needed friction in her relationship with Max.
Like I eluded to before, the love scenes were off-the-charts in explicitness and sexy talk. The fact that in this story warlocks gain power through physical "bonding" with their mate gives way to lots and lots of naked time. Fans of erotica will probably agree that Sylvia Day is one of the go-to authors in this genre. And for good reason. I really felt the connection she created between Max and Victoria and thought they truly seemed like soul mates who would do anything to take care of their loved one.
I would recommend Spellbound if you're looking for a super sexy–and explicit–paranormal romance that will have you panting with every turn of the page.
Book Info:

 HJ Recommends
Published December 3rd 2013 by Penguin
Her desire becomes his pleasure…
Max Westin. Sex incarnate. She could smell it, feel it with his proximity. Everything about him was a little rough, a little gritty. A primitive creature. Just like she was.
He held her hand a little too long, his thickly-lashed gaze clearly stating his intentions to have her. To tame her…
"Victoria."
Her name, just one word, but spoken with such possession she could almost feel the collar around her neck.
"It's in your nature," he murmured. "The desire to be taken."
In this game of cat and mouse, everything is an illusion but the passion is as real as it gets…