In The Cinderella Seduction by Hope Tarr, Stefanie Stefanopoulos has not forgiven herself for getting into a relationship with a con artist, a man that became her fiancé only to steal money from her family. So when her father asks her to entertain Greek tycoon Nikolaos Costas while he tries to gather enough money to pay some of their debt, she knows that she has to do it.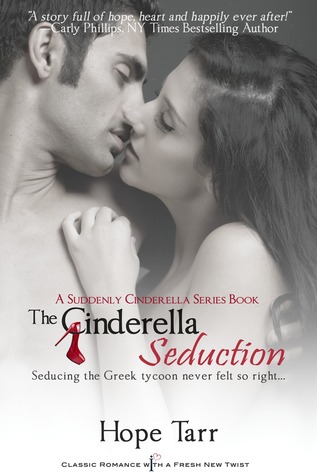 Nikolaos Costas is going to America with the only purpose to collect the debt from the Stefanopoulos family, and he won't leave until he either gets his money or their company so he can honor his promise and use that money to help build the orphanage a bigger place so they can help more children.
Four months ago the only thing Nikolaos cared about was work and having a willing body to satisfy his needs. But that changed when he received a call from a college girlfriend's family telling him that she had died, and that he had a daughter that they had given away to orphanage when she was born seven years ago. Now all he cares about is making it up to his daughter and giving her all the love that she went missing for seven years, and knows that he must find a wife and mother for his daughter. He just needs to find a woman that is as good in the kitchen as she is in bed.
After doing some research, Stefanie figured that Nikolaos is a player and the best way to distract him is to seduce him. She believes that she is not as pretty or petite as her two stepsisters, but with the help of her friend Macie she believes she can make herself over enough to be able to seduce him. What she doesn't expect is to have him show up with a beautiful daughter changing all her plans.
Now Stefanie will have them touring all over town and distracting them until her father finds a solution to their problems. But Nikolaos is onto her distraction, and will not let himself be completely distracted that easily. Even if he can't seem stop wanting her from the moment he first met her, but her stepmother and stepsisters are going to be a thorn in their sides more often than not.
With a little planning and perfect timing, Nikolaos and Stefanie will be able to get to the place they have been wanting since they first met. But her stepmother may just end up ruining the only chance they have at having the family they want.
I love the Suddenly Cinderella series and all I can say is WOW, a great ending to a great series! Although, it does have a bit of maybe another story later, at the end of the book. I liked how this one just brought the entire Cinderella fairytale more out with a greedy stepmother and her two horrible daughters who treated Stefanie badly. And the way that Nikolaos wanted to step in and put them in their place but also knew he needed to let Stefanie deal with them in her own way. Also the way that he showed her the beauty he saw in her and not what she believed of herself. And how can I forget sweet little Mara, that little girl could easily steal your heart.
If you want to find out how Maddie's Cinderella red shoes will end up bringing them together and giving them their HEA as they have done to all others before, don't miss The Cinderella Seduction by Hope Tarr. And don't miss the other books in the Suddenly Cinderella series either you won't regret it. 😉
Book Info:

November 11th 2013 by Entangled: Indulgence
Greek tycoon Nikolaos Costas has a debt to collect from the Stefanopoulos family and he won't leave until he gets his money. Stefanie Stefanopoulos has been tasked with entertaining—i.e. distracting—him while he's in town, all in hopes of getting him to forgive the debt. She may not be an ugly duckling, but she's a far cry from her petite stepsisters and she knows that the gorgeous playboy won't even notice her. It doesn't stop her from wanting him to, though.
Four months ago, Nick's bachelor-style life was turned upside down. Now the sole parent to a seven-year-old daughter he never knew existed, Nick doesn't have time for pleasure. But he hadn't factored in Stefanie or the intense attraction he'd feel for her. As her seduction heats up, so do the stakes, both professionally and romantically. Can he let business go long enough to allow Stefanie into his heart?