Spurred On (The Quick and the Hot) by Em Petrova: Hayden Meadows was a triumphant, champion rodeo rider until he got injured. Now he is embarking on a second career as the newly hired foreman at the Cole Ranch. He will do what ever it takes to make this job his own and be successful. However, he runs into a sexy problem on his first day of work, spunky Zoe Beth Cole, the somewhat beloved daughter of ranch owner Val Cole.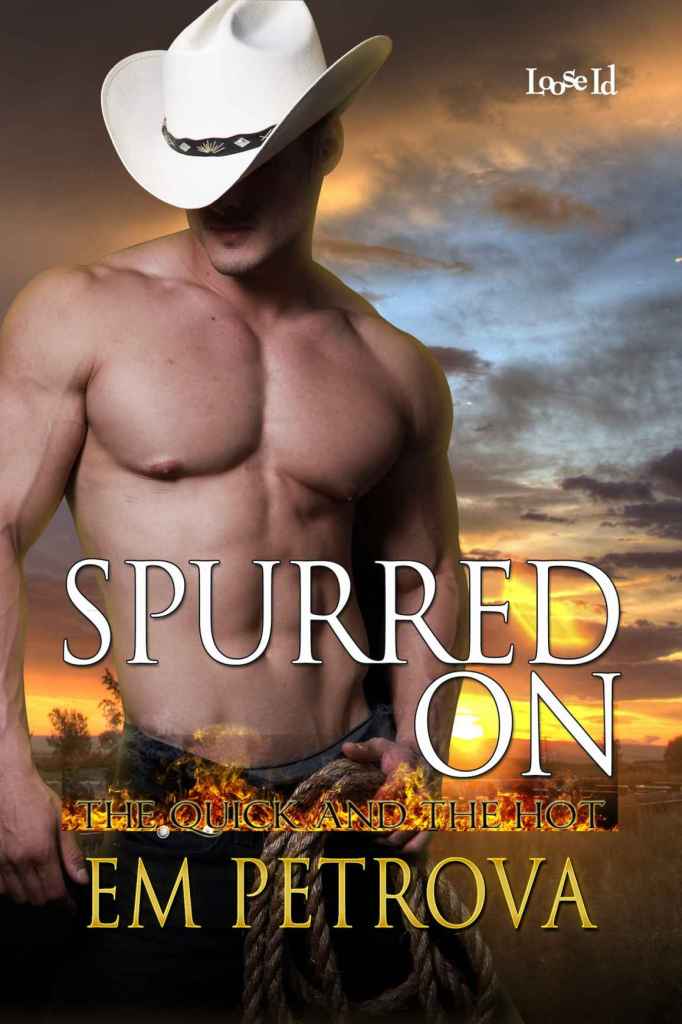 Recently, there have been some thefts on the local area ranches, so every weird noise, voice and sound is investigated. When Hayden arrives for his first day of work, he decides to do a little exploring since Val is not around. Unfortunately for Hayden, Zoe Beth is around and she suspects him to be a thief. Thus she goes after him with a shovel and her collie Tripod, and as as result, Tripod bites Hayden on the leg. What a first day Hayden is having!
Zoe Beth is truly surprised by Hayden's presence because she truly thought she would be the new ranch foreman. She has worked on the ranch her entire life, but her father is unable to let go of the reigns and give her any real responsibility. She can do anything any of the male ranch hands can do, plus some. Zoe Beth is truly getting fed-up with her father's attitude and his belief system that only a man can run a ranch.
The chemistry between Zoe Beth and Hayden is magnetic and electrifying. Neither has ever experienced this kind of attraction before. Naturally and secretly, the get together and experience the best sex of their lives. Zoe Beth finds Hayden's control and dominance in the bedroom a complete turn on, but when working together, she finds it humiliating and condescending.
Wow, what a sexy and steamy novella. Ms. Petrova's talent for describing truly hot sex scenes is heavenly. The characters are well-defined and earthy. I truly felt what Zoe Beth and Hayden were feeling with every glance, touch and encounter. Ms. Petrova is a good writer and I would have liked to read more back-story in lieu of some of the sex scenes. If you are looking for a fast-paced erotic romance, take the time to read Spurred On.
Book Info:

August 26, 2013 by Loose id LLC
Genre: Contemporary Western
After a major injury on the rodeo circuit, Hayden takes over as foreman at the Cole Ranch. But he finds that acting on pure instinct as he did in the arena isn't working with his boss or the ranch hands, and that getting the landowner's daughter Zoe Beth in his bed has probably put his job on the line.
Since childhood, Zoe Beth's sole goal is to be seen as an equal among the cowboys in her life and to manage her father's ranch. But her daddy–and now Hayden–bosses her around. In the bedroom with the tall, muscled ex-bull rider, it's toe-curling, but in the pastures, she's damn well going to earn the respect she deserves.
When she takes in a neglected animal belonging to the neighbor, she is faced with a decision that will prove her guts as a rancher even while Hayden will be forced to see himself for the dominating person he's truly become.