Conveniently His Princess by Olivia Gates: Aram Nazaryan gave up on his dream of marriage and putting down roots long ago when he was forced to leave Zohayd, the only place that felt like home to him. When his best and only friend approaches him with a proposition to take over his role as the Minister of Economics in the desert kingdom, Aram is tempted to take the dream job. There's only one catch: to serve in the cabinet, Aram has to marry a princess of Zohayd. He's less than impressed when Shaheen suggests Princess Kanza Aal Ajmaan.
"You want me to marry Kanza the Monster?"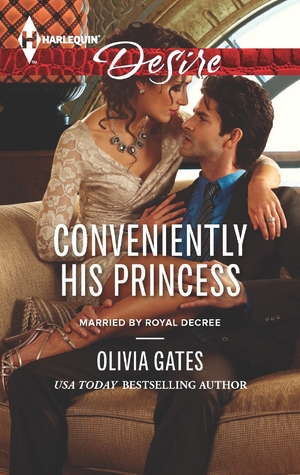 But Kanza has changed in the ten years since Aram has seen her. It only takes one run in with her for Aram to become intrigued and invigorated by her. Kanza, wary at first, begins to enjoy a friendship with Aram, unaware that she has been offered as the perfect solution to Aram. As their relationship grows, is it the lure of returning to the only home he's ever had and finally being able to start a family that compels Aram, or has Kanza wormed her way into his heart?
I usually don't like desert romances or stories with royalty. The billionaire businessman is wearing thin as well. But I have to admit, I enjoyed Conveniently His Princess. I loved Kanza and Aram's witticisms and sly comebacks. Ms. Gates did a great job with the dialogue in this book. The dialogue was fresh and zinged across the page. The complexity of Aram's feelings kept me turning the pages. I liked how so much of Conveniently His Princess was from his perspective; it's nice to roam around in the male mind every now and then.
However, aside from the dialogue and steamy sex scenes, I wasn't as caught up in the writing of Conveniently HIs Princess.
"Instead of getting used to being inundated in his vibe and pervaded by his presence each time the experience got more intense, had her reeling even harder."
Passages like this felt a little clunky to me.
Overall, this was a solid read. I loved the dialogue, the development of their relationship, and the complex nature Gates gave Aram. There are a few clunky passages and the story drags in part, part Ms. Gates writes the sex and dialogue with a sure hand. I would recommend Conveniently His Princess to anyone who enjoys witty dialogue, steamy sexual encounters, and a multi-faceted hero who goes after what he wants with masterful precision.
Book Info:

Published September 3rd 2013 by Harlequin
Only one thing stands between Aram Nazaryan and the high-powered position he craves: the proper wife. Although this billionaire would do anything to return to Zohayd, the desert kingdom he considers home, marrying Princess Kanza Aal Ajmaan is too high a price to pay. Or so he thinks—until he meets Kanza…and she turns his world upside down.
After claiming Kanza as his princess, everything falls into place. But then she learns the truth. She may have married for love, but his vows are tainted by ambition. Will doubt, betrayal and mistrust end this too-convenient union?