Star Struck (Lights, Camera #2) by Laurelin Paige: Lucky me, I read and reviewed the first book in this series and now I get the same opportunity with book two. I love reading about the the goings on in the film industry, even when the characters are fictional. Based on my knowledge from celebrity talk shows and entertainment magazines, Ms.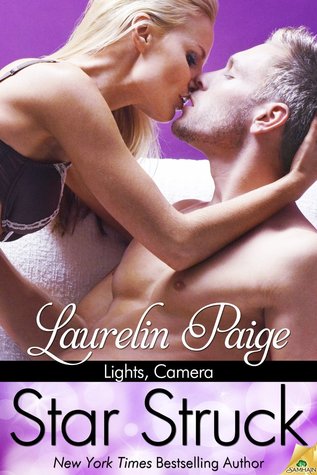 Paige seems to understand the Hollywood scene well and her interpretation comes across with amazing realism.
Famous Hollywood actress Heather Wainwright is considered by some to be a diva, which she is most of the time. However, she uses her diva persona as a barrier to her personal life, so inquisitive minds are less likely to pry. Not only is she very talented, she is beautiful and cares about the arts for underprivileged kids. Heather grew up in a trailer-park with her drunken mother and drug addicted father, never looking back when her father kicked her out when she was only sixteen. As a result of her father's inappropriate words and actions during her childhood, Heather associates all blue-collar men with complete distaste. Meeting Seth Rafferty, who Heather believes is a carpenter, changes her outlook on the working man.
Seth Rafferty grew up in poverty and slowly but surely worked his through the film industry into the position of Production Designer. He is extremely good at what he does and is sought after by many of the most prominent film makers. Since he is a really good-looking guy, his attraction to women is understandable. After he was dumped by his former fiance for his and his family's past misjudgments, he vowed never to get involved with any kind of diva ever again. For some bizarre reason, Seth finds himself attracted to Heather, while they are working on a fundraiser for underprivileged children.
Heather and Seth are scorching in the bedroom, against the wall and in the shower. Seth likes to be in complete control during sex and Heather discovers giving up control makes her happy. Each scene Ms. Paige pens is hotter than the last. Within a very short period of time, they are sneaking around (in order to avoid the paparazzi)experiencing the best time and intimacy of their lives. Only honesty about their pasts will enable them to have a future together.
I really enjoyed this book. Heather and Seth are extremely likeable, have great sexual chemistry and cherish each other in the most unique ways. I immediately connected to them as individuals and as a couple. Lexi, Heather's assistant is a real trip, she reminded me of Radar from the old TV show MASH.
This is a good book, complete with great characters, steamy sex scenes and an engaging love story.
Book Info:

Publication: June 17th 2014 by Samhain Publishing
Onto every diva's backside, a little wood must fall.
Lights, Camera, Book 2
Hollywood actress Heather Wainwright was looking forward to a long, relaxing break before starting her next shoot. Except her assistant volunteered her for L.A.'s annual 24 Hour Plays.
Nervous about doing a good job for such a worthy charity, Heather falls back on "diva" mode, a defense mechanism that always carries her through. Until she encounters something that really gets on her nerves—a lowly carpenter whose Norse god eyes pierce right through her.
Highly sought-after production designer Seth Rafferty has little patience for A-listers with superior attitudes, which is why his attraction to Heather is absurd. Yet, sensing vulnerability beneath her screen-queen act, he lets her assumptions play out.
After the wrap party, Heather awakens with little memory of the night before—except that Seth gave her the best orgasm of her life, then disappeared. When he shows up on the set of her next movie, she winds up to give him a piece of her mind…and Seth shows her just how stinging hot "chemistry" can get.