Scandalize Me (Fifth Avenue Trilogy #2) by Caitlin Crews: Hunter's fallen about as far as a football "star" can fall. He chose his path, so he can't complain. In fact, he doesn't complain. He doesn't do much of anything these days except live up to whatever the tabloids paint him as. A fallen star, rich lazy playboy, whatever – he just doesn't care.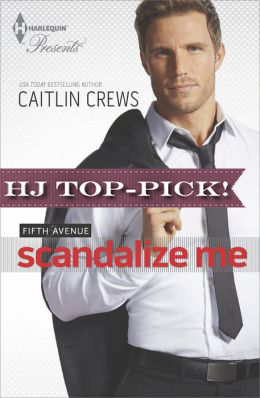 Until Zoe. He has no idea why she's focusing on rehabilitating his reputation, but he's going to use her closeness to his advantage.
Zoe's been through too much to let Hunter get to her. After all, she's pretty sure he's part of the problem *and* the solution. Yeah, she can PR him to death – that works for her purposes. Make him into the golden boy she knows he can be. But then turn him loose on the world and let them know he was part of Jason Treffen's web of sin… hopefully, that should take the man who broke her down for good.
The more time they spend together, the closer Zoe comes to giving in to Hunter. Hunter keeps pushing her, and Zoe can't keep the ice queen facade up for every second of the day. At least not when he's around. But she just can't do it. She has to keep telling herself that he's off limits. Until she gets to know him, and figures out he may be just as innocent as she was – at least before Jason ruined her. Maybe Jason ruined him too.
This is the second full-length book in the Fifth Avenue trilogy, and it's much darker than the first. At least in character tones. Both Hunter and Zoe are broken and mourning the loss of Sarah – in very different ways. It was revealed in the first book that Hunter was Sarah's on-again, off-again boyfriend, and wow – we get a lot more info here.
As far as Zoe goes, we get her veiled backstory pretty quickly, with more details throughout. Not a shock though when you know what the major storyline of the trilogy is. Seeing it from her perspective was raw and unnerving – and I think that's what made this book great. Getting to visualize the scandal (thus the title I'm assuming) from the inside – both from Hunter and Zoe's perspective.
Jason Treffen doesn't appear nearly as much in this outing as he did in the first, which is natural considering he's not related to either of the characters. It's plenty dark without him though.
The sex scenes – including the foreplay where they dance around each other – is super hot. Be prepared for steamy windows. This series is NOT for the faint of heart.
Book Info:

Publication: July 1st 2014 by Harlequin Presents | (Fifth Avenue Trilogy #2)
TEN YEARS AGO ONE DEVASTATING NIGHT CHANGED EVERYTHING FOR AUSTIN, HUNTER AND ALEX. NOW THEY MUST EACH PLAY THEIR PART IN THE REVENGE AGAINST THE ONE MAN WHO RUINED IT ALL.
Hunter Talbot Grant III, sports figure du jour, wealthy beyond measure and disreputable by choice, has cultivated a reputation that masks the shadows of his past. When the opportunity to ensure financial destruction for Jason Treffen arises, he can't refuse. But first he must shake off the woman sent to tame him!
Zoe Brook, PR agent extraordinaire, never fails to transform a tarnished star. And Hunter's no different. Except there's a catch. Beneath their scorching mutual attraction, Zoe has a secret, she's also been on the wrong side of Jason Treffen, and she has as much of a taste for revenge as Hunter does!