In Take My Breath Away (Cabin Fever #1) by Christie Ridgway, Poppy Walker is going to prove to her siblings that there is no bad luck attached to their family land in the California mountains. If she has to do all the work restoring the cabins to their former glory, then so be it. So when an unexpected visitor shows up a few months ahead of opening day, Poppy decides to take a chance on Ryan Hamilton, and his money. Forced to spend time close together thanks to a hailstorm, the sparks fly between them. Poppy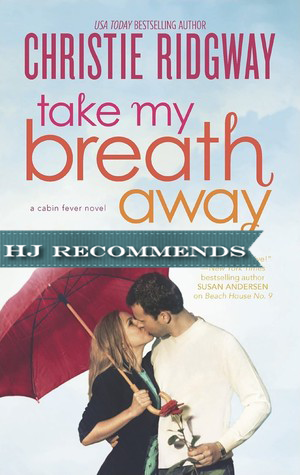 knows better than to be dazzled by rich men who will only leave town in a few weeks, but she can sense Ryan is different. And he's hiding grief that she hopes she can help him overcome.
"I shouldn't touch you. I want to–devil knows I want to–but I wouldn't be good for you, Poppy."
"What if I don't want what's good for me? she whispered. "What if I want…" Her face felt as if it were on fire. "Bad. To do something just a little bit bad."
Movie executive Ryan Hamilton's goal is to hide away for the month of March in a secluded cabin in the woods. After a tragedy struck his family four years ago, March tends to be the most painful month of the year for him. Ryan finds lodging in Poppy's fledgling campground, more than willing to give up some amenities to just find peace of mind. He wasn't expecting to develop a serious case of lust for her in the depths of his pain. With the help of his brother Linus, and caring, sweet Poppy, can Ryan make it through the month without lashing out and doing something he'll regret?
'She deserved a well of emotion, a man who had a lake's worth of love to lavish on her. His shriveled heart hadn't anything like that inside it.'
Take My Breath Away is a great beginning to Christie Ridgway's new Cabin Fever series. In it, we get to know the Walker siblings who are full of family pride, living in the beautiful mountains of California.
I always seem to enjoy Christie Ridgway's romances. She's not afraid give us stories that have some darker edges to it and really make the protagonists earn their Happily-Ever-After. In this case both Poppy and Ryan have been through some tough times. And because of that, they're kindred spirits…even if they don't want to get involved through a good portion of the book. I liked how they began to warm up to each other when they were stranded together in a storm. Their relationship was built oh-so slowly, piece by piece, although their attraction was evident from day one. I thought the love scenes were very hot, and I can honestly say buttercream frosting will never be the same again! I also loved that Ryan was able to make Poppy feel feminine again after struggling as a single mom for five years. He was so sweet (most of the time) in his pursuit of her.
I really thought the sub-story of Ryan's brother Linus and Poppy's cousin Charlie was wonderful all on its own, and I could have seen it as a separate short story/novella. But I'm glad their romance added another layer to book one. It was a nice accompaniment, bringing in characters that will be in future installments. I thought the plot in general was interesting, exploring the relationships of locals and the rich out-of-towners who stay for short periods of time, never seeing the broken hearts and messes they leave behind. And once we got to know who the characters all were, the story moved along at a nice clip.
Christie Ridgway fans, never fear. Cabin Fever looks to be every bit as charming and enjoyable a series as her previous novels. Definitely recommended reading for romance lovers.
Book Info:

Published May 27th 2014 by Harlequin HQN
From USA TODAY bestselling author Christie Ridgway comes a sparkling new series set in the California mountains, where Hollywood glamour meets rustic charm, and the sparks fly among the unlikeliest of couples…
Poppy Walker has a plan to restore the family resort, and she's sticking to it. So when a good-looking guy with plenty of cash rents one of her half-repaired vacation cabins, she figures he's just what the handyman ordered. But when a late-winter storm blows through, it takes down some trees, her roof and then…her self-control. Even though she's been burned before by a wealthy passer-through, she can't stay away from the brooding but gorgeous stranger in the bungalow next door.
Former teen idol turned Hollywood exec Ryan Hamilton wants a private place in which to endure his very personal heartbreak. Finally, at this rustic mountain cabin, he has all the seclusion one man could want—until sparks begin to fly with his sexy, formerly chilly landlady. By the time the weather dies down, they're both hot, bothered and certain they're still wrong for each other. But there's no telling how they'll face the new storm brewing on the horizon…