In Tempted by Dr. Off-Limits (Hot Army Docs #2) by Charlotte Hawkes, spending one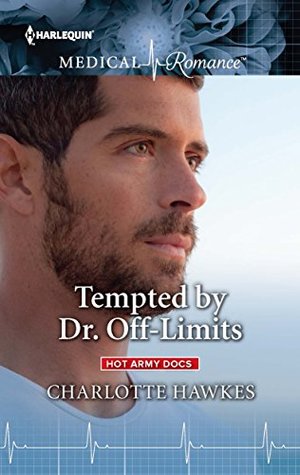 fabulous night with Major Elle Caplin was supposed to be a one-off, but when Lieutenant Colonel 'Fitz' Fitzwilliams finds himself face-to-face with her on the Army Base where she works, he knows it's not going to be easy to ignore the strong chemistry they have between them. Will Fitz be tempted to break his one-night rule or will their chance at happy ever after never happen?
"I really can handle him. But thanks."
"He's drunk and humiliated. You have no idea which way he'll jump," the liquid gold voice murmured. "Besides, that was one impressive thumb-lock you executed back there. I'd fancied myself to have been swooping in here like some modern-day superhero when I saw you almost fall off your stool before. At least throw me this bone now so I don't feel completely impotent."
This was a very interesting and engaging read, especially with the way this story started with the hero believing the heroine needs rescuing and then the medical emergency he helps her deal with in her role as a doctor. Will the heroine's patient be all right? Will the hero be able to help her, considering how much what happened to Elle's patient reminds him of someone important in his past? However, it was from the moment the hero and heroine were introduced to each other that had me reading quickly, determined to discover whether the hero will be able to charm the heroine or will his knight in shining armor routine be for nothing?
As for the dialogue, it was intense due to the main characters back stories, especially that of the hero that has him sticking to a one-night rule when it comes to relationships. Will he break it to be with Elle? Moreover, the hero is confident and hard-working when it comes to his job and I liked that he did everything he could to make things easy when working alongside Elle, even though it wasn't easy to ignore their chemistry. Yet, I felt sorry for him when it came to what happened to someone he loved and that he hasn't been able to get over what happened to his family and the fact that he couldn't save the people he loved. Is what happened the reason why he's afraid to get close to people?
"You have no right to judge me, you don't even know me."
"I'm not judging you," he argued. "I'm trying to protect you."
"From whom?" she exclaimed. "From you?" The bleak look in his eyes caught her off guard. A haunted look that clawed at her insides. "Fitz, why on earth would you think I need protection from you?"
While the heroine, she's strong and brave and I liked how hard she's worked to get to where she is in her life and hasn't let everything that's happened to her in the past hold her back, especially not the cruelty of her stepmother or the unfaithfulness of her boyfriend. I also liked how good of a doctor she is, which is proven by the medical emergencies she takes care of including the moment when the hero helps her. Yet, what I liked most of all about the heroine was her determination to prove the hero wrong when it came to things he believed about himself.
Overall, Ms. Hawkes has delivered a really good read in this book where the chemistry between this couple was strong; the romance was wonderful because these two need each other to heal from their pasts; and the ending had me worried for one of the main characters, but had me liking how far Fitz is willing to go to get Elle back, especially after what happened between them that made their relationship go awry. Really, his words are precious to Elle and definitely are a way to make her feel special. However, it was right at the end that had me smiling a lot, because of how far the hero and heroine have come in their relationship. I would recommend Tempted by Dr. Off-Limits by Charlotte Hawkes, if you enjoy the opposites attract trope, the mysterious strangers trope, or books by authors Dianne Drake, Alison Roberts, Janice Lynn and Amalie Berlin.
Book Info:

Publication: January 1st, 2018 | Harlequin Medical | Hot Army Docs #2
One night is never enough…
For trauma doc Major Elle Caplin, spending one night in Lieutenant Colonel Fitzwilliam's arms is out of character but oh so good! It's meant to be a one-off, until Fitz shows up on her army base!
Fitz doesn't do long-term—he knows he's bad news to anyone he cares about—and learning that he'll be working with capable flame-haired Elle puts her in the strictly off-limits category. But with the memory of their hot, life-changing encounter keeping him awake, suddenly Fitz is tempted to break his one-night rule.