In Staying For Good (Most Likely To #2) by Catherine Bybee, When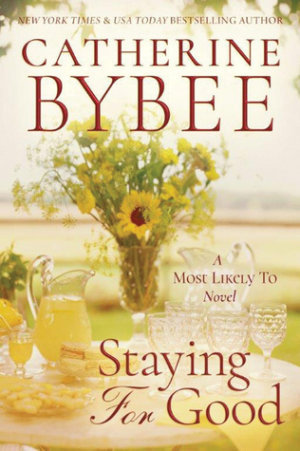 Zoe Brown left her hometown of River Bend, Oregon behind over a decade ago, she never could have dreamed of the success she would find becoming a chef. Now her name draws attention everywhere she travels and the opportunities keep coming. But part of Zoe wishes she could put down roots for once. Somewhere far different than the humble trailer she grew up in and without the drama of her abusive father. Recent trips back to River Bend to visit her best friends Mel and Jo has reminded her of the guy she also left behind. Luke Miller. What she wouldn't give to have one more chance to make things right with the sexy mechanic. But is it a good idea to reopen old wounds? Or should Zoe finally let go of her first love?
"I should probably go," he whispered.
No! She scrambled to find the words to make him stay. "What if you don't?"
He stepped closer so the heat from his body radiated to hers. "Then I'm taking you to bed."
Yes! A much better idea.
Zoe leaving right after graduation completely wrecked Luke. So since then, he's been working at his father's garage and sticking close to home but has always kept an eye on Zoe's career. He's never really thought about what else the world has to offer, content with the occasional casual date and hanging out with his friends. But with Zoe reappearing in town, Luke has to admit that his love for her has never diminished. And with her troublesome family messing with her once again, he knows he has the chance to be there for her just like when they were teenagers. What he didn't count on was realizing he won't be able to let Zoe go a second time. So he'd better do his damnedest to make sure things work out this time.
'He deepened the kiss long enough to make sure she knew he wasn't saying good-bye.
This was hello.
Not the kind of greeting they'd shared when they were kids, but the kind adults who knew what they wanted shared at the beginning of something good.'
Staying For Good was one sweet and sexy reunion romance that also had its fair share of family drama. Filled with genuine, heartfelt emotions, a love that stood the test of time, and an inspiring heroine who had some equally kickass friends, I adored everything about this book.
'If there was one thing to drive Zoe away, it was her dysfunctional family.
He wouldn't survive losing her again.'
I have to hand it to the fabulous Catherine Bybee for her ability to draw me into a story and keep me there through its entirety. There's just something so honest–and entertaining!–about each character she creates and the predicaments she puts them in. And with this particular series being set in a small town, based around the longtime friendship of BFFs Zoe, Mel and Jo, who I immediately fell for in book one, I had a wonderful time here learning more about what each of them have been up to since we last saw them.
I wasn't lying when I said I found Zoe to be an inspiring character. Not only did she make it through a horrific, abusive childhood intact (which I will caution might be a trigger for some readers) but she also went on to become a famous celebrity chef. I think what I liked most about her was that she didn't really let the success go to her head. Zoe actually didn't realize how well known she was and the power she could command in her career. I think still having close ties to Jo and Mel helped ground her, as well as remembering her humble beginnings.
The second chance romance between Luke and Zoe was something magical. There wasn't a huge amount of angst or even melodrama between them which was great. What there was instead was a depth of emotion and respect, along with the hope that this was finally their time to make things work out. Luke ended up being a terrific hero. He was also humble like Zoe, and was a down-to-earth guy who loved his family and his town. I thought he was the perfect guy for her as he was steady and more than capable of helping her through the tough family issues she faced while back in River Bend.
Romance fans will be sure to cheer on former high school sweethearts Zoe and Luke right away in Staying For Good. Just wait until you see what passion, laughter, reconciliations, and mischief (can you say Vegas?) awaits readers this time around. Highly recommended.

Book Info:

Publication: January 24th 2017 | Montlake Romance | Most Likely To #2
Zoe Brown may have been voted Most Likely to Never Leave River Bend, but the paper-thin walls and suffocating air of her family's double-wide trailer were not what she wanted for her life. Other than BFFs Melanie and Jo, the only thing that kept Zoe sane during high school was her boyfriend, Luke.
She didn't just leave, she escaped—turning her back on the shame of her black-sheep siblings and imprisoned dad. Now a celebrity chef in Dallas, she can afford all the things she never could have growing up. But when she returns to rustic, ruggedly beautiful River Bend, Zoe has to face all that she abandoned—including Luke.
While Luke was a refuge for Zoe in the past, he knows they inhabit totally different worlds now. Anchored by his parents and his job as a mechanic in his father's shop, Luke never felt the urge to leave River Bend—until Zoe's return.
But when the two rekindle their old flame, Zoe is forced to make the hardest decision of her life: remain in River Bend and confront her past before it destroys her, or say good-bye to everyone she's ever loved…again, this time for good.