In Steal Me, Cowboy by Kim Boykin, Rainey is a hairdresser (who sometimes feels like a therapist!) in Columbia, South Carolina. She's been a relationship with Adam for 4 years – but she only sees him when he's not playing minor league baseball and trying to make it to the major leagues. Rainey wants more. They have chemistry that can burn the sheets when they're together, but Rainey wishes just once Adam would pick her over baseball. Just once!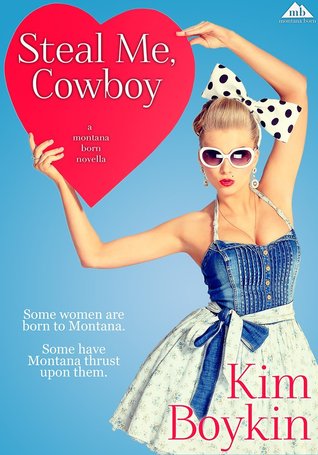 When Adam unexpectedly takes a job coaching in Missoula and Rainey loses her job at the salon, she takes a spur of the moment road trip in her beat up car intending to surprise Adam with a visit. Rainey does not want to be thought of as a visitor though, and on this trip she intends to let him know that! She wants so much more. Unfortunately Rainey's car breaks down en route. After being rescued by Beck on the side of the road, Rainey ends up in Marietta, Montana intending to stay and work only until she has enough money to fix her car and continue on her way. Even if she is guiltily attracted to Beck, and his face is the one she sees in her fantasies.
Beck, born and raised in Marietta, is a chef at his own restaurant. The last thing he expects is to have his heart captured by a Southern Belle like Rainey! Beck realizes pretty quickly he wants Rainey to stay in Marietta, but will she? Can Rainey admit to herself that she sees in Beck everything that Adam is not? That Beck can give her everything Adam won't? Or will she continue with the familiar even if it means an empty heart?
Kim gives us some great characters with a unique story line. Who just leaves on a road trip in a beat up car, very little money, and no real plans except the destination? Well, Rainey does and she'll take you along on her adventure! With her impulsive act and her loving, independent self, Rainey is easy to like and to root for. Rainey didn't give up when her car did! I also liked how she wanted to deal with her relationship with Adam before all else. Beck can see that Rainey is not being treated like she should be by her ever absent boyfriend. He really feels she is the woman for him and he'll do everything he can to convince her to stay. I did like Beck a lot (did I say a lot?!), but I wasn't too impressed with him trying to push Rainey before she was ready.
Nell, one of the stronger secondary characters added a lot of vavoom! to Steal Me, Cowboy, and I really liked watching the bond form between her and Rainey.
Steal Me, Cowboy is a well paced romantic novella. When you read it you will see just how appropriate the cover for it is too! At times the plot is a little unbelievable, but it is always fun and uplifting, with very like-able characters making you believe in love at first sight. Steal Me, Cowboy is a fantastic addition to the Copper Mountain Rodeo series, but can definitely be read as a stand alone novella – you will enjoy it either way!
I'd recommend Steal Me, Cowboy to any romance reader looking for adventures, fun, and a hero and heroine who have great chemistry!
Book Info:

Published December 29th 2013 by The Tule Publishing Group, LLC
Print Length: 102 pages
Unbeknownst to her boyfriend, Sassy South Carolina hairstylist, Rainey Brown, is headed to Missoula, dead set on giving her minor league baseball player boyfriend of four years an ultimatum. Either put a ring on it or let her go, preferably not the latter.
When Rainey's piece of crap car dies in the middle of Nowhere, Montana, she's sure she's a gonner, until gorgeous restaurateur Beck Hartnett stops to help. Beck falls hard for Rainey, and knows she would admit she's fallen for him too, if she wasn't too stubborn to admit it. Beck has five days before the car is repaired to steal Rainey away from a boyfriend who doesn't deserve her. Five days before she's gone for good.