In Stealing Harper (Taking Chances #2) by Molly McAdams, Chase Grayson fell for Harper the moment he met her at his party. She's his sister Bree's roommate and Harper is as innocent as she is gorgeous. Chase realizes that he has no right to pursue her or even dream that they could be a couple. He's simply not good enough for her. His best friend Brandon, on the other hand, is everything Harper deserves. He won't cheat or let her down because Brandon is a relationship guy. Chase is not. Or so he thinks. It turns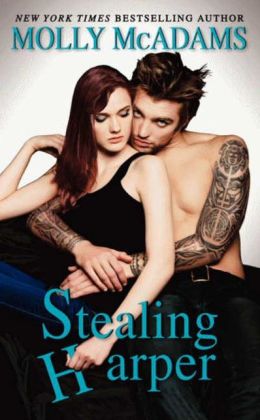 out that Harper is actually just what he needs to start growing up while he is completing his final year of college. The only problem is that Harper is rather disgusted by how Chase has treated girls in the past and thinks he won't be able to change his ways.
"She consumed me in every way possible. My brain was telling me to run from her, to keep her safe, to keep her from someone like me, but she had my heart completely, and that was winning out."
Chase can't stop himself from interfering when Brandon and Harper begin dating, even after he told Brandon that he wasn't going to date her himself. Just seeing them together twists a knife in his heart so he begins working more and staying at his parent's house instead of crashing in the house he shares with Brandon and his other close friends. Harper starts visiting at his parent's place on Sundays, which is family day, and Chase comes to think of it as "their" day together, when Brandon doesn't enter the picture. On those days he gets to see firsthand the way Harper reacts around him and can see their connection. It's apparent that they care for each other, but Chase knows she also cares for Brandon. He knows he shouldn't, but he resolves to fight for her love.
"I wanted to kiss her so freakin' bad; this beautiful girl had no idea what she did to me. It was no longer a matter of just wanting to kiss her, I needed to kiss her, needed to know exactly how those lips would feel against mine."
They get a chance to have a few stolen hours together when Harper is unexpectedly at his house while the rest of their friends and his family travel for the holidays. They both admit their love for each other but neither one knows what to do about the situation. Harper doesn't want to hurt Brandon because she does love him, and Chase can't imagine a life without Harper in it. She pleads for some time to figure out how to handle things, so Chase agrees reluctantly. As the days pass, he grows more and more worried that he's losing his opportunity to build a relationship with her. He finds out that issues have become a bit more out of hand and finally decides to confront Harper. But what he learns changes both of their lives forever.
"I walked quickly up to her and pulled her into a tight hug, trying to memorize the way she felt in my arms. I inhaled her vanilla scent and wished I could promise her that I would never do anything to hurt her again, but we both knew that would be a promise I could never keep."
WOW. Just…Wow. And that's both a good and a bad wow at this point. Having not read book one, this left me hanging a little bit. That is until I researched the end of book one: Taking Chances, which is from Harper's pov. Then, honestly, it just made me feel frustrated. Without giving the plot away, I absolutely understand the reasoning behind what Molly McAdams did with the characters, but the ending still left me feeling, well…unsettled. The story was definitely very well written and took no time to finish as it was a true page-turner. There was just a lot of angst and drama to digest–which isn't a bad thing. And the more I read, the more I started liking Chase. It started off rocky but his attitude changed (for the most part) and he grows up considerably during the events in the story. This is the type of book that will stick with me for a while so I can come to terms with the final outcome. If you feel up for an emotional roller coaster ride, check out this story. But I would suggest reading book one first.
Book Info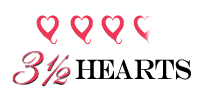 HarperCollins Publishers Publication Date: May 21, 2013
Chase Grayson has never been interested in having a relationship that lasts longer than it takes for him and his date to get dressed again. But then he stumbles into a gray-eyed girl whose innocence pours off her, and everything changes. From the minute Harper opens her mouth to let him know just how much he disgusts her, he's hooked.
But a princess deserves a Prince Charmingwho can make her dreams come true. Not a guy who can turn her life into a nightmare.
All good intentions go out the window when Harper starts to fall for the guy Chase has come to view as a brother. He wanted to protect her by keeping her away, but he can't stand to see her with anyone else, and he'll do anything to make her his. But when it comes down to Harper choosing between the two, will Chase have the strength to step back from the girl who has become his whole world if it means she's happy?
Lines will be crossed. Friendships will be put tothe test. And hearts will be shattered.