In Destination Wedding by Robyn Neeley, wedding planner Kate Ashby is on a flight from New York to Hawaii to plan a wedding. She just wishes that the flight was not as long as it actually is and that she had not forgotten some sleeping pills. She is terribly afraid of flying and such a long flight is not conducive to her being calm. She just wishes that the flight attendants would hurry up with the drinks. If she gets drunk enough she may just be able to fall asleep.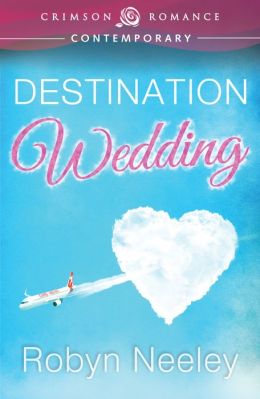 Luke Cannon cannot believe his twin brother; first he takes a first-class seat for himself while sending Luke to economy for their flight to Hawaii for Drew's wedding. Now he is asking him to trade seats because the woman sitting next to him is a nervous wreck who talks too much and spilled her drink all over herself, and she won't let him sleep.
Now as Luke trades seat with his brother's seat he couldn't be happier, the woman is a knockout, but if they are not to be reported he will have to use his brother's name. After some very entertaining conversation and a kiss to distract Kate from the flight, Luke hopes that he will be able to connect more with her during the flight and while in Hawaii. But his brother getting cold feet a little before landing and then forgetting his carryon on the plane ruins those plans.
Kate cannot forget the man on the flight who made everything more bearable, but after having a couple of vodkas and falling asleep only to wake up without him next to her makes her wonder if he was only a figment of her imagination. Until she meets the bride-to-be Lauren Kinkaid and her fiancée Drew, the man she kissed on the plane.
Kate cannot stand unfaithfulness, but she will act like nothing happened for this is the biggest account that the wedding planning company she works for has had in a long time, and this may just make her partner. Unfortunately, she cannot help the attraction she feels towards the man she believes she shared a kiss with while planning his wedding to another woman.
Luke will have to find a way to make Kate realize that the brother she is actually attracted to is not Drew but himself. But lies by omission and miscommunication may end up ruining their chances instead of giving them the clean slate he wanted.
Kate has some personal issues that she needs to get over before she can trust in the love of a man and in her own feelings. But unless she acts on her feelings and does what she needs to get her man, she may just end up loosing him forever. While Luke has always given everything to his little brother, even to the point that he switched prom dates. Now he is afraid that once again his brother has taken what he wanted for himself. Luke will have to learn to fight for what he wants and trust his family enough to open up and tell them the truth instead of doing what they want from him.
Destination Wedding by Robyn Neeley is a fun and very entertaining read that will keep you hooked till the very end.
Book Info
Publisher: Crimson Romance (June 10, 2013)
Wedding planner Kate Ashby's fear of flying is eased by a sexy stranger and one slow lip lock that rockets her into another obit.
CEO Luke Cannon has just traded seats with his identical twin. Little did he know that an innocent kiss while pretending he was his brother would soon create havoc.
What happens in the air doesn't stay up there. Once on tropical land, Kate believes that the handsome stranger who gave her the best kiss of her life is now her new client, Drew Cannon, fiancé to the beautiful and wealthy Lauren Kincaid. While Kate struggles with the intense feelings she thinks she has for Drew, Luke discovers Kate's been hired to plan his brother's destination wedding. He also realizes the initial sparks they shared 30,000 feet up are now mistakenly aimed at Drew.
Can Luke get Kate to realize that the feelings she has are for him? He's got forty-eight hours in paradise to try.
Sensuality Level: Behind Closed Doors