Stepping into the Prince's World by Marion Lennox: Sometimes we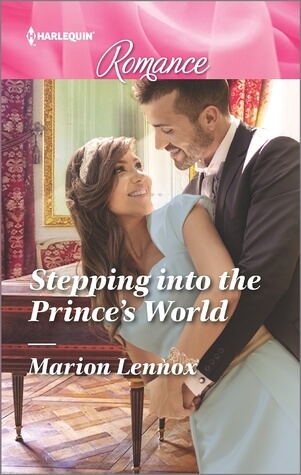 like what we see so much that we don't dare ask questions.
Claire Tremaine knew what it was like to have things assumed about her. People sometimes assumed because she was from a certain part of town and didn't have the right connections she couldn't do anything, couldn't be anyone. Yet this girl from the wrong side of the tracks managed to overcome, become a lawyer and do good things. Until she was accused of treachery that had her resigning and going to care take a remote island for 6 months. So it would serve that she wouldn't assume things of others, right?
Raoul Marcus Louis Ferdinand de Castelaise was the Crown Prince, but currently he was serving his country in the military. Until the note from the Queen came in and he was to be retiring soon, but first he was going to take a quick sail on his friends yacht. He was a good sailor, but no one saw the storm coming, nor could they have predicted how the boat would hold up.
When Claire saved Raoul out of the waters she made assumptions based on her observations but when the truth comes to light will she be able to handle it?
This was a very well written work by Ms. Lennox. At times perhaps a little verbose, but with a very sweet underlying message that we can't judge a book by it's cover as well as if you want something bad enough you have to work for it. The personalities are well described and the scenery descriptions are so vivid it's like you are there and not only can you see but you can smell everything around you. This is a sweet novel and well worth a pick up to lighten and brighten your mood.
Book Info:

Publication: September 6th 2016 | Harlequin Romance |
Falling for the secret prince
Claire Tremaine accepted the post as sole caretaker of a gorgeous island after a professional betrayal left her life in tatters. It's the perfect place to heal, until her solitude is interrupted by a gorgeous solider who's shipwrecked on her shores!
Raoul breaks down Claire's barriers with his kindness and kisses, but she's stunned when he's revealed as Prince of Marétal. She believes they can't be together…until Raoul whisks Claire to his palace! She's stepped into the prince's world—but can Claire capture this prince's heart?