Welcoming the Bad Boy by Annie Rains: No one would think the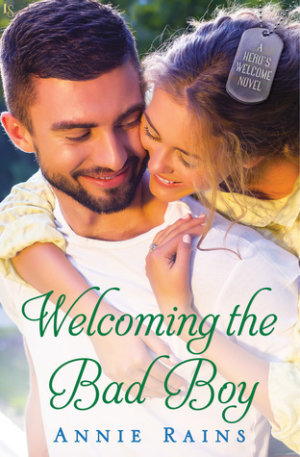 preacher's daughter would be a romance novelist, not sweet and boring Valerie, the school's assistant. Except she is, and this summer she needs inspiration to write her newest novel. So thank god Griffin Black shows up in her life. The sexy K-9 military police officer who keeps showing up, helping her train the puppy she's watching over in return for her help with his mother with Alzheimer's.
Griffin knows he doesn't want a woman, nothing serious for him at all, except he can't seem to stay away from Valerie. The sweetheart she is, he wants nothing more but to get her to cut loose. And he can't seem to stop sharing more and more of himself with her.
As they embark on a fling, and only a fling, they try to keep it light. Valerie tries to focus on her novel and making sure Griffin is nothing more than her inspiration, and Griffin on the dog he's having trouble controlling. But the more they see each other, the deeper they fall.
"What's your condition?"
"You have to call her Sweet Cheeks. That's her name. Not dog."
He grinned. "Anything else?" His mind ran rampant with all the other requests she could get him to submit to right about now, looking at him through those dark lashes of hers, with those pink, kissable lips.
I loved Welcoming the Bad Boy. It's cute and sweet and sexy. A quick paced read I didn't want to put down, Valerie is the sweetest thing, and just the person for Griffin to confide in and fall for. Not just the couple, but I loved the outside touches of their worlds. Griffin's issue with the dog training on base, and his sweet attachment to his partners/dogs, and Valerie's work in writing and the nursing home.
It's a fun cast of characters with some serious issues sprinkled in, but still a totally lighthearted read. One aspect I totally loved was Griffin giving Valerie the romance treatment, meaning he was reading a romance (Valerie's, of course) and giving her the wooing part. Who doesn't want that to happen?
For those who like a light military touch and a totally fun and sexy read, I recommend Welcoming the Bad Boy. The third in a series, it can be read as a standalone, but I know I plan on reading the other two!
Book Info:

 Published: August 2, 2016 | Loveswept | Hero's Welcome #3
From the author of Welcome to Forever ("Full of heart and emotion!"—Lori Wilde) comes a sweet, sexy novel about breaking all the rules. In Seaside, North Carolina, the boys on the base are heroes—but that doesn't mean they're always well-behaved.
As a preacher's daughter, Valerie Hunt only dates the very respectable, very boring men who meet her father's strict standards. In private, however, she leads a double life as a romance writer of steamy stories about the least respectable sorts of men. Valerie has always kept her hottest fantasies separate from her real life, but when she nearly runs a hot-blooded biker off the road, the lines begin to blur.
Even though Valerie almost killed him, Griffin Black can't be angry after he learns the reason for her distracted driving: an unruly puppy belonging to her ailing friend. As a member of the military police K-9 unit, Griffin insists on training the dog himself. But he soon wonders how he's ever going to stay disciplined around the most alluring, down-to-earth, and totally unattainable woman he's ever met. Valerie is the ultimate good girl. And Griffin is going to need all his old tricks to unleash her wild side.