Stolen to Wear His Crown by Marcella Bell is a December 2020 debut Harlequin release and I loved it!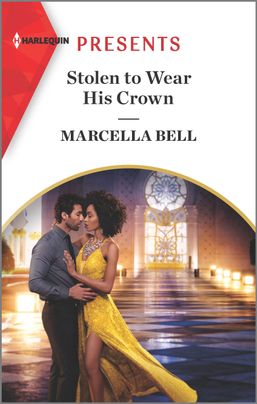 If I didn't know Stolen to Wear His Crown was a debut book, I would have thought it was written by a seasoned professional. The drama, humour, adventure, plot and entertainment value were top quality and I enjoyed every word!
The dramatic entry of Mina into King Zayn's world was gripping and held my attention. The descriptiveness of turning Mina into a Queen at her ball was stunning. The adventures that were packed into a little book was brilliant. The smattering of humour was most enjoyable. The introduction of characters and the reflection of others was great and above all the Mina and Zayn's road to love was a joy to read. The haircut scene, so relatable! I could literally feel every snip! I also really liked she was an intellectual with plans rather than a person who just dreams of being someone amazing. I also liked how she was 30+. As I'm getting older it's harder to relate to the 20-year-old heroines.
I really enjoyed this book because it was so descriptive, had so much packed into it and I loved the approach of both Mina and Zayn. If there was anything, I would change I'm not sure I'd make the guards arresting Mina as rough as they were… she is the future Queen after all. I did miss an epilogue.
Highly recommended, this book has everything one could possibly wish for in it and I am very much looking forward to the next two instalments of The Queen's Guard.
Book Info:

Publication: December 2020 | Harlequin Presents | The Queen's Guard #1
From unworldly scientist…
…to his fearless queen!
Mina has finally achieved her dream of becoming chief scientific advisor of Cyrano, when she's stolen from the interview room! She's taken directly to the palace chapel, where the terms of a secret betrothal mean she must marry the king—immediately.
Powerful King Zayn knows all too well monarchs can't afford dangerous distractions like love. Yet still, he's appalled to be wed to a complete stranger! Mina is altogether too sensitive, too scholarly, too unpolished to be queen. But that can't stop the desire that flares each time she looks his way…
The Queen's Guard
Book 1: Stolen to Wear His Crown