Stranded with Her Greek Tycoon by Kandy Shepherd: A series of events can turn a marriage any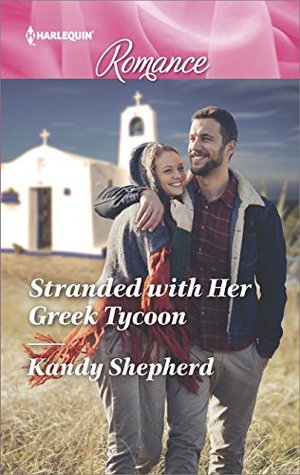 number of ways. One-way is happy and amazing and beyond anyone's wildest dreams. The other way is terrifying and so dismal it can cause a marriage to dissolve faster than sugar in water.
Hayley Clements knew that she wasn't in a good place. What had started out with the greatest of love and affection was slowly changing into a scary world of unknowns and fear. The man she married wasn't the same man she was now married to, was he? It seems like one thing after another until one day when it's all just too much.
Cristos Theofanis doesn't realize he's addicted to the next big thing. He thinks he is doing the right thing for the right reasons, and maybe he is. Or maybe there is more going on than he can realize. One day climbing to the top he realizes that his base may not be as sturdy as he believes it to be.
After two and a half years of separation Haley and Cristos are back together, in a highly watched and highly stressful situation. Will this make or break their future together?
Ms. Shepherd has given her readers an interesting concept for a book, combing second chance, alpha male, cultural stereotypes and a female finding her own. This is really a story about two people finally understanding there is another person in their marriage. The story is incredibly well written, though there is a major aspect on the emotional side of Hayley that could have been deviled into a bit better. Overall though this is a great story written with flowing emotions and emotional concepts one doesn't normally see in romance novels. Ms. Shepherd should get some major props for taking her readers into the emotional side of real love.

Book Info:

Publication: February 6th 2018 | Harlequin Romance |
One night to win back his wife!
Can Hayley resist Cristos's seductive charms?
After the demise of her marriage, Hayley fled to nurse her broken heart. Now she's back to ask her husband, Cristos Theofanis, for a divorce—but he has other ideas! When a storm hits and they're stranded together, Cristos has one night to prove himself. Can Hayley resist the temptation of Cristos's kiss or will she find herself back in his arms?