The Color of Love (Blessings, Georgia #5) by Sharon Sala: What I love so much about the Blessings,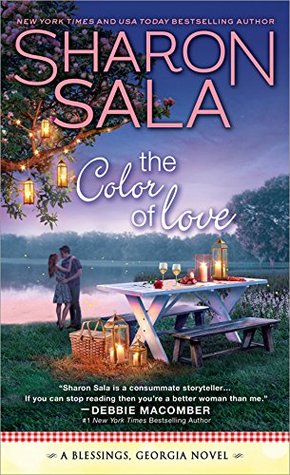 Georgia series is that each story deals with tough subjects that make you think and this book is no different. In The Color of Love (Blessings, Georgia #5), Sharon Sala deals with the difficult issue of domestic violence and homelessness all while in the end, giving us an amazingly beautiful HEA. This is the story of Ruby Dye and Peanut Butterman.
Ruby Dye is the owner of the Curl-up and Dye hair salon and has a secret admirer. She has no idea who it is, but she does have a hope of who it might be. When she is asked to dinner after Sunday Services by none other than Peanut Butterman, she is excited, but before she can even attend, she is assaulted and kidnapped by her abusive ex-husband.
Peanut Butterman has been in love with Ruby Dye for years, and is too afraid of possible rejection, so instead, he remains in the shadows, sending her small gifts and admiring her from afar. When he finally gets the courage to ask her out and confess his feelings, she is taken. And he will do whatever it takes to get her back.
Once safe and sound back in Blessings, Georgia, life just starts to get back to normal, but there is danger around the corner and it is coming for Ruby and Peanut. Can these two lovebirds weather the storm, or will their future be taken away before they have a chance to write it.
What I love about this series is that we get to see characters from books past, we learn how close knit the community of Blessings really is. There is a side story with a very poor family that is practically homeless, and when the little town of Blessings pulls together to help, it will bring a tear to your eye and put a smile in your heart. There is hints to a next installment in the Blessings, Georgia Series and I for one can not wait.

Book Info:

Publication: February 6th 2018 | Sourcebooks Casablanca | Blessings, Georgia #5
He might be winning her heart before she even knows who he is…
Welcome to Blessings, Georgia, the small town with a big heart! Anyone from a small town can tell you that gossip never stays quiet for long. The biggest news lately is Ruby Dye: she's been receiving gifts from a secret admirer. But Ruby isn't sure she can trust this newfound happiness. Nobody knows the dark secrets she keeps about her life before she arrived in Blessings. Is this the beginning of a would-be romance, or is she the target of something more sinister?
Everyone admires Ruby and her determination to do the right thing, especially local lawyer "Peanut" Butterman. He's finally ready to tell her how he feels. But when trouble arrives on Ruby's doorstep and their little town is threatened, Peanut may have to prove himself in ways he never imagined.