One More Promise by Samantha Chase is the second book in the Band on the Run series. After a drunken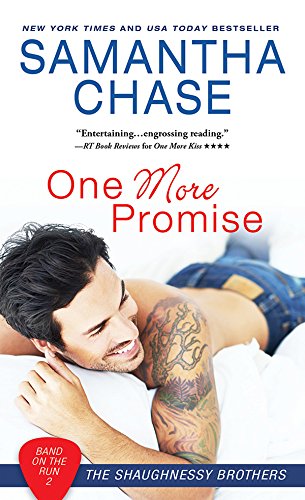 accident that resulted with a stint in rehab, Shaughnessy bassist Dylan Anders is feeling restless. The band is on hiatus as everyone is working on other projects. Needing to complete community service, Mick, the band's manager, suggests he get involved with the Literacy Now program. Having had difficulty reading as a child, Dylan wants to be a part of it. The problem? PR Paige Walters had no plans to include celebrities in the program. She only wanted authors to take part and her sister extended invites to celebrities instead. Now Paige has to make the best of the situation while Dylan has to convince everyone, including Paige, that's he a changed man.
I liked Dylan. He acknowledges his mistakes and is trying to do the right thing. I also felt for him because people judged him based on his past. They didn't take the time to see the man he had become since leaving rehab.
Paige was one of those people. At first she comes across as judgmental, both of his appearance and his past, but the more time she spends with Dylan, the more she gets to know him for who he was. I felt for her, too, because it was clear she did most of the work at her father's PR firm but her sister always got all the credit. There were times I wanted her to just tell both her sister and her father off, but when she finally stood up to them it was worth the wait.
I enjoyed seeing how the band members surrounded Dylan and gave him unwavering support. Readers of the series will be happy to catch up with the other band members and see what's going on in their lives. If you haven't read the previous book in the series, or have not read Riley Shaughnessy's book in the Shaughnessy series, don't worry–this can be read as a standalone. You can still read and enjoy it without having read them.
One More Promise is a story about getting a second chance to turn one's life around. With realistic, sympathetic characters, it's one that readers won't want to miss.

Book Info:

Publication: February 6, 2018 | Sourcebooks Casablanca | Band on the Run #2
Ambitious Paige Walters is ecstatic when she's hired to recruit musicians for a literacy campaign—it's her chance to prove she's got the chops to make it in the family business. She certainly isn't going to let some fallen idol screw it up. But as the work brings Paige and Dylan closer together, their attraction grows…and so do their challenges…