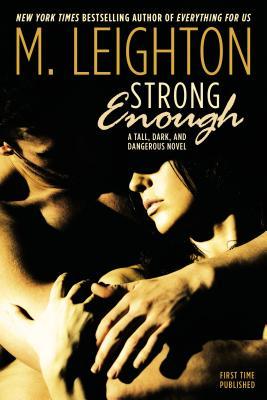 Strong Enough by M. Leighton: Muse implicitly trusts her father, even knowing that he is keeping things from her. When she's unable to contact him, she asks Jasper to help her locate her father. Jasper is a sexy, intense, and intimidating man. He had a difficult childhood and has survived by shutting off all feeling. He agrees to help her and even agrees to her tagging along for the trip. Jasper set ground rules for their trip, including not asking questions and following all of his instructions.
"Wow. Thanks for asking."
"I don't often ask permission for anything I do. I hope that doesn't offend you."
"And if it does?"
I shrug. "Then this isn't going to be a particularly pleasant trip for you."
She is curious and wants to get to know Jasper, who is so contained and in control. Muse finds herself asking questions anyway during their trip and she's surprised whenever he chooses to respond. Jasper is determined, loyal, protective, and private. The more she gets to know bits and pieces of Jasper, the more she wants to know.
And getting to know Jasper, even a little bit, doesn't help with her inconvenient yet consuming attraction to him. Jasper is up front about his attraction to Muse. He also runs hot and cold; when he's not telling her exactly what he wants to do to and with her, he's warning her away from him. Jasper freely tells her that he's not a good guy and will hurt her.
"Don't you get it? You shouldn't like this. You shouldn't like me. I'm not a good person. I'm not someone you can just happily toy with and then go on about your life unscathed. Knowing me, spending time with me, will only end in unimaginable pain for you."
Strong Enough is an intriguing ride as Muse begins to question her past and present in order to figure out what she wants for her future. M. Leighton created an interesting story with some expected and unexpected connections between characters. Ms. Leighton included interesting secondary characters, who I would expect to see in the upcoming books for this series. Fans of Brighton Walsh and Lauren Smith would enjoy Strong Enough.

Book Info:

 August 4th 2015 | Berkley | Tall, Dark, and Dangerous #1
From the author of the New York Times bestselling Bad Boys novels comes the first in a dark, sexy contemporary trilogy.
Is she strong enough to trust the most dangerous man she's ever met? And is he strong enough to let her?
How would I describe myself? Well, I'm Muse Harper. I'm a twenty-something painter who loves red wine, quirky movies, and men with a fatal flaw. But that was before I met Jasper King. He became my fatal flaw. Eight months ago, I had a choice to make—abandon everything I've ever known to protect my family, or stay and risk someone getting hurt. I chose the former. My plan was working just fine until I found out my father had gone missing.
That's when I met Jasper. A bounty hunter with the eyes of a tiger and the nose of a bloodhound, he was supposed to help me find my father. What I didn't know was that meeting him was no accident. Hunting people isn't all that Jasper does. And helping me was only part of his plan. I just wish I'd found out sooner, before my heart got involved. But even then, I don't know if I'd have done things differently.
Now, I have another choice to make—trust the man that I'm falling in love with and hope that he'll do the right thing, or run as far away from him as I can get.