Stud by Jamie K. Schmidt: Terri gave up her career so that she could take care of her brother who means the world to her. If that means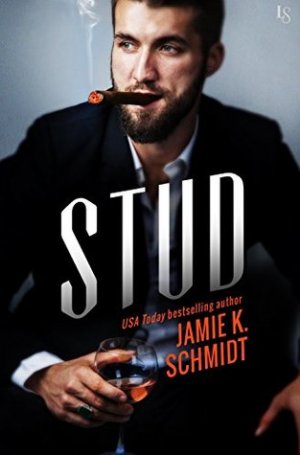 she has to make over-priced coffees for pretentious and demanding but oh so sexy jerks, then so be it. While she hates being forced to give Mick the VIP treatment, she can't help but be drawn to the sexy playboy.
Mick is desperately trying to hold the family business together. He's thrilled to land a huge account, but he's trying to dodge the negative press that his parents and brother are creating for the company. He's worked hard and given up his own dreams to save the company, so he more than makes up for it by partying hard and without apology.
He's definitely noticed the sassy barista who tells him like it is every day when he comes in for coffee. She's not his usual type, but he also can't stop thinking about her. Of course, he is surprised when Terri shows up for an interview with his company. He has a strict no fraternization policy, so he's more inclined to pursue an affair over hiring her.
"This isn't how I usually end bad interviews." I swallowed. "Is this a pity date?"
"This has nothing to do with this job. And I think you know that. You're not going to work for me."
I stiffened. "Thanks for the reminder."
They have smoking hot chemistry and can't resist a one-night stand. It was exactly what they both needed, but it is harder than expected to walk away, especially when Mick ends up hiring Terri. Fighting their attraction tests their self-control when they are forced to spend time together, and allows them to develop a much needed friendship.
"You finding me here."
"No, it's not. You pretty much broadcasted where you were over social media."
My mouth dropped open. "You stalk me on Facebook? You don't even have my number."
"Of course I have your number."
Stud is outrageous, sexy, heartwarming, and angst-fueled. Jamie K. Schmidt created an entertaining opposites attract workplace romance with plenty of heat and family drama. Ms. Schmidt provided a diverse cast of characters from a loving, devoted, and protective brother to scheming relations with changing motives. Fans of Tracy Wolff and Virna DePaul will enjoy Stud.

Book Info:

Publication: July 25th 2017 | Loveswept |
Large. Hot. With a pump of sexual tension.
When the barista next door teams up with a slick ad executive in this sweet standalone novel from USA Today bestselling author Jamie K. Schmidt, they both get a taste of unexpected love.
Terri Cooke wishes she could give Mick Wentworth a piece of her mind. The infuriating stud muffin walks into her coffee shop every morning expecting his regular order at 8:57 on the dot, without ever acknowledging Terri's presence—except for staring at her cleavage. And yet she can't deny that Mick Wentworth has an animal magnetism that's stronger and richer than any espresso . . . which explains why Terri says yes when he suddenly, inexplicably asks her out.
After the morning coffee run, Mick's day is all downhill from there. His family's marketing firm is dysfunctional in more ways than one, so to save the business, Mick desperately needs to impress their newest client. When he learns that Terri's a fan of their trendy product, he tries to get inside her head. It doesn't hurt that she's the barista he's been lusting after for the past five months. But as things heat up with Terri, Mick finds that a little steam is just the jolt he needs to turn his whole life around.