The Forbidden by Jodi Ellen Malpas is a very controversial read yet surprisingly epic. When I read the blurb, I was hesitant to even read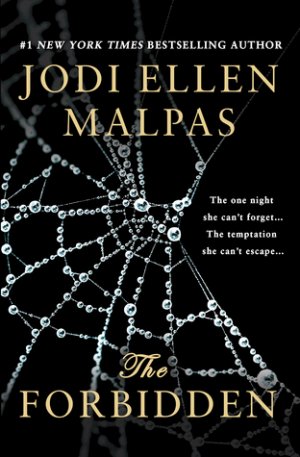 this book because I knew someone was cheating, and cheating is a hard limit for me. Well, the hero and the heroine don't cheat on each other, but it still doesn't make it right, does it? Is Adultery ever okay? What if there is no love in the marriage or the wife turned into this crazy woman, would it still be okay? Get ready for an emotional journey that will put you on the inside of an affair and make you question everything you thought you believed in.
Annie and Jack meet at a club and their attraction to each other is immediate. There's this spark between them that is very strong and cannot be ignored. Annie has never experienced feelings like this before so she decides to get a room with Jack for the night. Their night together is unforgettable, but it was only the one night and what are the chances of them seeing each other again?
Annie can't get over her night with Jack, but don't worry he shows up where she least expects him too…with his wife. Turns out Jack and Annie will be working together on her new project. Annie is devastated and Jack isn't doing very well, either, but he's handling it a lot better than Annie. He's just happy to be near Annie again. This is the first time he's done something like this, so don't think he is a habitual cheater. He's struggling with everything he's done just like she's struggling with being the other woman. She tries to break it off, but since they will be around each other for work, it's impossible and their feelings for each other only get stronger instead of diminishing, as the days go by. They share the same interests and passions, and that makes for a wonderful friendship, but it's beyond that for these two. If anyone was destined to be together, it's Jack and Annie.
Jack was so real to me. His feelings and vulnerabilities was front and center for everyone to see. He's not this evil man who wants to see if the grass is greener on the other side. He is just a man who fell in love with a woman, who wasn't his wife. It's not like their relationship was a love match anyway and to be fair, he does try to get out of the marriage, but of course, nothing is that easy. The author has a few twists up her sleeve that will keep everyone off balance. Not everything can be put into a right or wrong or black or white category and this author proves it. The Forbidden is a gut-wrenching tale full of passion, angst, and heart! Not to be missed!
Book Info:

Publication: August 8th 2017 | Forever |
A new story of dangerous temptations from the #1 New York Times bestselling author of the This Man trilogy.
Annie has never experienced the 'spark' with a guy-that instant chemistry that renders you weak in the knees. That is, until a night out brings her face to face with the dangerously sexy and mysterious Jack. It's not just a spark that ignites between them. It's an explosion. Jack promises to consume Annie, and he fully delivers on that promise.
Overwhelmed by the intensity of their one night together, Annie slips out of their hotel room. She is certain that a man who's had such a powerful impact on her must be dangerous. She has no idea that he belongs to another. That he's forbidden.