Summer at Hope Haven by Kristin Harper: Almost a year ago, Emily lost her parents and her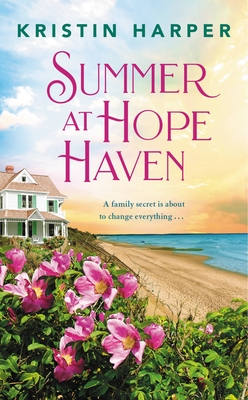 brother in a tragic plane accident. When her fiancé breaks up with her and the art classes she teaches are over for the semester, she decides to return to Hope Haven on Dune Island, where she vacationed with her family every summer. She also agrees to paint murals in the children's wing of the island's hospital, while reconnecting with Wilson, her childhood friend and brother's best friend, and his wife, Collette. What she doesn't expect is to meet Luke, a friend of Wilson's and a doctor at the hospital.
Just when she feels like she's starting to heal, she finds a letter in her father's desk which hints that maybe her parents' romance wasn't the fairytale she always believed it to be. Wilson has a secret of his own that turns Emily's life upside down again. When it's threatened to be revealed, the only suspect is Luke, the man who has been slowly stitching her heart back together. Emily has a choice to make. Does she leave the island that has brought her peace, or leave everything behind to be on her own once more?
Emily is a character readers will sympathize with. Her heartbreak really comes through on the pages. Readers will also sympathize with Wilson, who wants to do nothing more than save Emily from more heartbreak.
My main issue with the book is Luke himself. For the most part I liked him, but he constantly makes assumptions and runs away when things don't seem to be going his way. Much of the multiple conflicts between him and Emily couldn't have been avoided if he simply communicated with her, instead of assuming the worst about her and not giving her a chance to explain. After the second time he did it, I was really hoping she would make him grovel more for forgiveness than he did. I would have expected he would have learned his lesson after the first time, but instead, he shows no growth as a character since he keeps repeating the same behavior over and over.
Summer at Hope Haven is a well-written, emotional tale of family, heartbreak, healing, and love that tugs on heartstrings and will have readers rooting for the characters to finally find the happiness they deserve to have in their lives.
Disclaimer:  This book was originally published in 2020. I have not read the previous version, so I cannot tell you what is different between this version and that one. I just wanted to put this out there as a disclaimer, in case you've read the previous version. 
Book Info:

Publication: October 11, 2022 | Forever | Dune Island #1
Grieving the loss of her family in a terrible accident, Emily escapes to Hope Haven on remote Dune Island, where they all vacationed every summer. She hopes that fixing up the house will also mend her broken heart, but the cottage holds more than just childhood memories. Emptying her father's antique writing desk, Emily finds a letter that reveals a devastating secret about her parents.
Full of questions, Emily worries that returning to the island was the worst decision she ever made . . . until she meets Dr. Lucas Socorro. Perhaps he will be the one to help her finally heal.
But when Emily's family secret spreads through the local gossips, her fragile heart breaks all over again. Luke is the only one who could have started the rumors. Was she wrong to trust him so easily? Now Emily has a difficult decision to make. Does she pack her bags and leave the island for good? Or take a risk that Hope Haven has everything she's been looking for?