Summer at the Shore (Seashell Bay #2) by V.K. Sykes: I have read many books by V.K. Sykes and this book is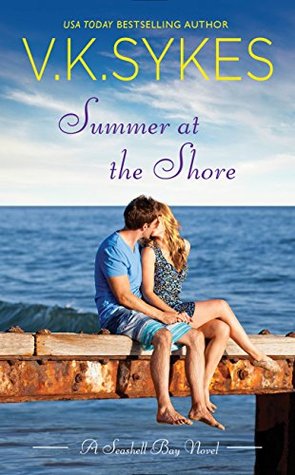 just another one on my list of summertime reads. If you did not read the first book in the Seashell Bay Series, don't worry, this book can be read stand alone and you will not be lost. I have to say that Summer at the Shore had me hook, line and sinker from the first page to the last. This story is funny, sad, uplifting and based on the little island of Seashell Bay where everyone knows everyone. This is the story of Morgan Merrifield and Ryan Butler.
Morgan Merrifield has been in love with Ryan Butler for years. A teacher on the mainland, she has given up her dream to come back in Seashell bay after the death of her father to help her little sister, Sabrina, try and save the family B&B. What she doesn't count on is meetng Ryan on the fairy or convincing him to stay at the B&B and help her fix it up.
Ryan Butler has been drawn to Morgan Merrifield for awhile now and still cannot get the memory of the almost kiss that they shared at the Blueberry festival last summer out of his head. Ex-Special Forces, Ryan has returned home to Seashell Bay to regroup and decide if he really wants to return to the nomad life of his private security detail, or put down roots somewhere. Helping Morgan and Sabrina might be just want he needs to give him the much needed break from the dangerous life he has lead.
When Ryan and Morgan finally give into the passion and sparks that have been burning for years, they agree to take is one day at a time, not look to the future, not look at the past but live for the day. When a fire at the B&B, dwindling finances, and a dream job miles away threaten to tear Ryan and Morgan apart, they will each need to find the courage to tell the other what is in their hearts and decided for themselves what is truly important, a once in a lifetime love.
What I loved most about this story is that Ryan and Morgan where just so perfect together. Ryan is the kind of hero that you just can't help by fall in love with. He is protective of Morgan and Sabrina, he worries about them, wants to help in anyway that he can. He helps with the repairs, uses his own money, helps put together a business plan that will bring guests to the B&B and hopefully save Morgan and Sabrina from losing the business that they love.
I loved Morgan. She is protective of her sister, tries to shelter her and is fierce when it comes to trying to shield her from the problems at the B&B. Morgan is a proud woman and has a hard time accepting help, not that she would not be the first one in line to help someone in need, but when the shoe is on the other foot, she has a hard time accepting the same help from her island family.
The road to HEA for these two takes its twists and turns, but in the end, it will have you cheering and sighing. I would recommend this book to anyone looking for great summertime beach read. I look forward to more in this wonderful series.
Book Info:

Publication: June 30th 2015 | Forever | Seashell Bay #2
JUST A SUMMER FLING?
Morgan Merrifield sacrificed her teaching career to try to save her family's bed-and-breakfast and care for her younger sister. She can't let herself get distracted by Ryan Butler. After all, the rugged ex-Special Forces soldier is only in Seashell Bay for the summer. But her longtime crush soon flares into real desire-and with one irresistible kiss, she's swept away.
Ryan values his freedom. As much as he wants Morgan, he's not ready to settle down with anyone, much less in sleepy Seashell Bay. But his code of honor doesn't allow him to leave a woman in distress-and she's in desperate need of help to fix the inn. It only takes one day working under the same roof and Ryan is already hoping for a lifetime of hot summer nights . . .