In Barefoot with a Bodyguard (Barefoot Bay Undercover #1) by Roxanne St. Claire, Kate Kingston gave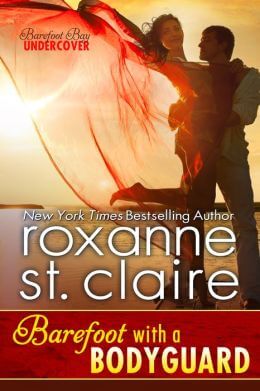 up her hope of becoming a lawyer when her husband took over her entire life. Now free of the controlling man after a messy divorce, Kate has taken back the reins on her life. That's why when her father, a judge, receives threats naming her as one of the potential victims, she balks at being sent to Barefoot Bay. Kate really puts her foot down when she finds out she has to pose as a newlywed to a huge stranger, who is also her new bodyguard. Nothing about the situation gives her the much needed control she craves. But soon Kate also craves Alec, the most unlikely guy for her, who is keeping dark secrets of his own.
"I never realized that my hands could be good, until I used them to touch you."

She made a little sound in her throat, biting her lip, glancing down to see his dark, marked hands juxtaposed against her pale skin.

"And I never knew that I could be worthy of anything, until you made me want to be worthy of you."
Alec Petrov feels like he's been fighting his entire life. Growing up with the Russian mob breathing down his neck and then becoming a Marine, he's been in some bad situations. Learning mixed martial arts and Jiu Jitsu gave Alec a sense of control which he now teaches others at his own studio. But a renewed threat from an old nemesis has him on the run again, this time to Barefoot Bay. Gabe Rossi has Alec watching over gorgeous, and off-limits, Kate. He's definitely not worthy of a woman like her, but as they grow closer, he can't help wonder if it would be so wrong to give in to their obvious chemistry. Just once.
'He couldn't forget that, no matter how attracted he was to this women, he couldn't really trust her. That could cost both of them their lives.'
Barefoot Bay just got a whole lot edgier. Gabe Rossi (yes, Gabe from the Guardian Angelinos series!) goes undercover to start his own witness protection program for those in need. That's where our protagonists, Alec and Kate, who have never met, have to pose as a married couple on their honeymoon. Let the fireworks begin…
I was so happy to be back in lovely Barefoot Bay for this new Romantic Suspense spinoff series. As always with Ms. St. Claire's writing, the emotions ran deep, there was a nice mix of humor with touching moments woven in, and the characters were completely believable, to me. As a reader, there is such a connection I feel each time I begin one of her stories. There's something about the way she crafts the characters honestly, showing not only their strengths but their weaknesses as well. And that was quite evident with Kate and Alec.
Kate should have come across as a man-basher, given her attitude when she first arrived at Casa Blanca. But with her backstory in place, I could empathize very easily with her situation and emotions. Alec, on the other hand, being an MMA trainer and former Marine, thought there was no way that someone as cultured, smart, and beautiful as Kate could even tolerate some big bruiser like himself. I kind of loved Alec for that humility. Not that any part of his self-deprecation was true. He was more than worthy of her love. It turned out that Alec and Kate had a lot more in common than they ever could have imagined and the resulting heat between them was incredible.
As with all of the Barefoot Bay books so far, there were some memorable scenes here. Some were with new characters, Poppy the housekeeper, for example. And some were with returning characters, like Luke McBain. My favorite, though, had to be with Kate and Alec ending up in couple's therapy. Um, sex therapy, that is. What started off awkward, then turned comical, and finally, smoking hot by the end of the session. Be on the lookout for that scene as well as when Alec teaches Kate self-defense moves. Both scenes were definite turning points for our characters.
Don't worry if you haven't read any other Barefoot Bay novels before. These can be read as standalones easily enough. I might suggest, however, checking out the novella Barefoot Bound that explains how Gabe found his way to the resort and his new job. (I would give that five stars as well!) And after the revelation Gabe receives at the end of this story, I can't wait to see what happens next on the island.
Book Info:

Published June 2015 | by South Street Publishing | Barefoot Bay Undercover #1
The Barefoot Bay Undercover Series
Introducing Barefoot Bay Undercover, a romantic adventure series set on the tropical beaches of Barefoot Bay. When former CIA consultant Gabe Rossi creates a secret "privatized witness protection" operation hidden within the security firm at the local resort, things get a little more suspenseful on the island paradise. Gabe's clients need to keep a low profile and stay safe while he helps them create new identities…and, sometimes, they find love. (To find out how Gabe started the operation, be sure to read the series prequel novella, Barefoot Bound.)
Barefoot with a Bodyguard – book one in the series
About to take the bar exam after ending a five-year marriage that derailed her career plans and her life, Kate Kingston craves independence and a vacation. Somewhere warm with sea breezes, sunshine, sand…and no scary threats against her that have been showing up in her dad's office. Barefoot Bay is the perfect place for some serenity while she studies and puts her life back together. But when she meets the brooding wall of muscle her father hired to protect her, Kate feels her hard won independence slipping away as fast as her resolve to avoid men who wield power over her.
Mixed martial arts trainer Alec Petrov has been on the run for a long time. Guarding a young attorney-to-be while pretending to be her husband is not a bad way to live off the grid, hidden from the Russian mobster who is hunting Alec with deadly intent. But Kate brings out a tender side Alec doesn't understand, or believe he deserves, and he soon realizes that keeping them both safe is only half the challenge. Keeping his hands off her and his attraction under control will be every bit as difficult in the closed quarters of an exclusive resort.
When their make-believe honeymoon in paradise turns sensual, complicated, and dangerous, Alec and Kate realize it's not just their lives that are in jeopardy, it's their hearts. And they'll have to fight to the end to save each other…and their love.